Page 2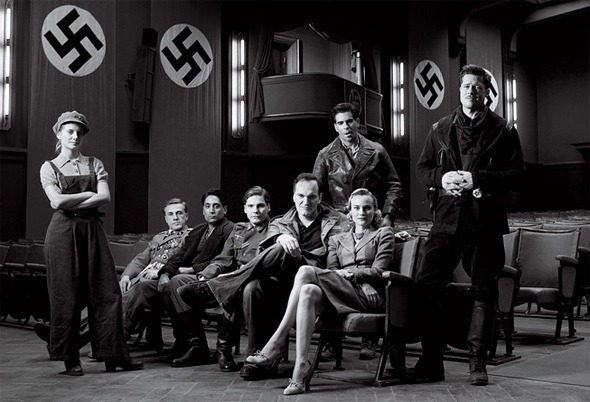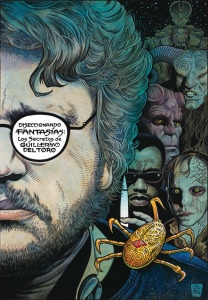 Vanity Fair has published some beautiful photos of the cast of Quentin Tarantino's Inglourious Basterds, which has been confirmed for the 2009 Cannes Film Festival.
Dissecting Fantasies: The Secrets of Guillermo del Toro opened at the Guadalajara Film Festival, and will be traveling (we don't know where or when, yet). The poster, right, was created by William Stout, and is available to purchase on Del Toro Films. [Chud]
I knew about this in January but couldn't say anything. Fanboys director Kyle Newman will direct the horror-comedy War Monkeys. [Shock]
Cinemaworld in Lincoln, RI is celebrating the 6 year anniversary of The Lord of the Rings trilogy with an exclusive screening of The Lord of the Rings trilogy (Extended Editions of Fellowship of the Ring and The Two Towers) on April 25th & 26th. [onering]
Sam Raimi told SCIFI that David Lindsay-Abaire's screenplay for Spider-Man 4 should be ready by Summer 2009.
Want to be an extra in a movie or television show? The Los Angeles Times has an article on the job of being a background player.
Jon Favreau continues the geek tour of his house on Twitter with a Robot from Zathura from Stan Winston, a Half scale Iron Man Mark 3 maquette from Legacy Effects and a Maquette of Woola from when he was developing John Carter of Mars.
QuietEarth has the first poster for Richard Kelly's sci-fi thriller The Box.
Time Warner Cable has just dropped FEARnet. Help get the on demand horror channel back on the air! [Fearnet]
Dragonball Evolution is NOT being screened for national movie critics.... hmmm I wonder why. [io9]
Sony Pictures are developing a Ghostbusters video game for the Apple iPhone. [/Gamer]
Matt Zoller Seitz examines the influences that have shaped Wes Anderson's films.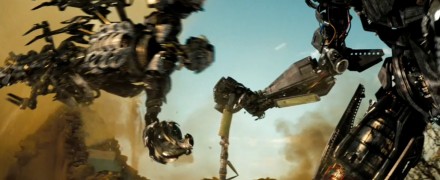 A couple weeks ago we reported that the Transformers: Revenge of the Fallen toy for Jetfire featured a walking cane. /Film reader Christopher M noticed Jetfire using the cane in one of the recent trailers (screengrab above).
Michael Bay gives away a death spoiler from Transformers: Revenge of the Fallen in an MTV interview.Slumdog Millionaire star Anil Kapoor has been cast as a series regular for Season Eight of Fox's 24 as a Middle Eastern leader who comes to the U.S. on a peacemaking mission. [USA]
Disney slashes 1,900 jobs at the U.S.-based theme parks. [LATimes]
Edgar Wright has posted a new blurry photo of Alison Pill as Kim Pine, the drummer of Sex Bob-Omb, in Scott Pilgrim vs. The World.Paul Weitz is in talks to direct Little Fockers, the third installment of the Meet the Parents series. [Variety]
Despite internet rumors, Chris Pine tells MTV that he has "not been offered" a role in Green Lantern, nor has he even read the script.
Warner Bros. and New Line has set a release date for Sex and the City 2 — May 28th 2010. [Variety]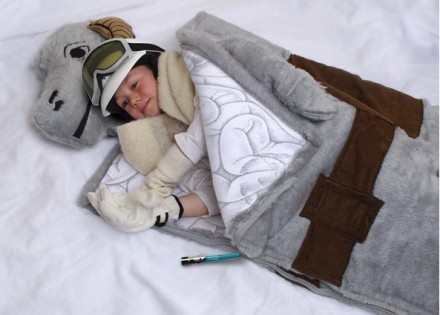 ThinkGeek is trying to get LucasFilm to license their April Fool's Star Wars Tauntaun Sleeping bag. I would have loved one of these as a kid.Andrew Stanton's John Carter Of Mars is apparently hoping to begin production next year. The city of Adelaide, Australia is one of the locations Disney scouted for the shoot. [moviehole]Private Practice star Chris Lowell has joined the cast of Jason Reitman's Up in the Air, playing the assistant to George Clooney's character. [Variety]
New movies you can watch for free on Hulu: Son of Godzilla and Cliffhanger.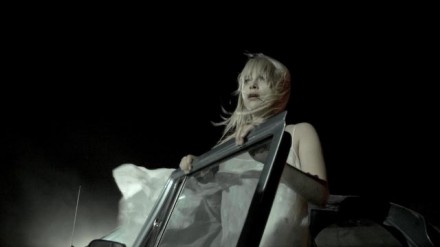 QuietEarth has the first photos from Thomas Jane's directorial debut, a 3D noir film titled Dark Country.Keifer Sutherland says the upcoming season finale of 24 "is going to end on a much more dramatic level than it is going to be a physical or action-oriented sequence. I also, in saying that, believe that it's the most powerful, important ending that we've ever had." [UPI]Drew Barrymore has signed on to star alongside Justin Long in Going the Distance. [Variety]Dexter's Mark Pellegrino has been cast in LOST as (swipe the following inviso-text for potential spoiler): J a c o b. [EW]Netflix has delivered 2 billion movies since the subscription rental service launched in 1999. [PRN]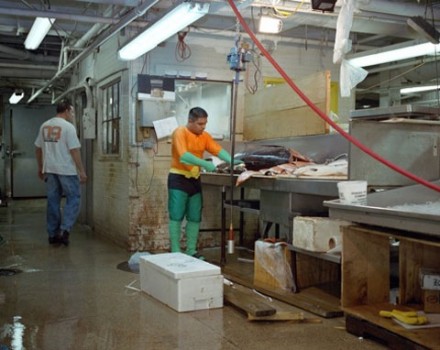 Photographer Dulce Pinzón dressed up Mexican immigrants in various superhero costumes, and photographed them at their place of employment. The series is called Superheros. [via: notcot]
Sean Connery finally gives his review of Indiana Jones and the Kingdom of the Crystal Skull to MTV: "I thought it was rather good. Rather long."Idris Elba and Zoe Saldana (Star Trek) are in negotiations to be part of Vertigo/DC Comic book adaptation of The Losers. [THR]
Legendary gamer and star of The King of Kong Steve Wiebe will attempt to reclaim his Donkey Kong record at the 2009 Electronic Entertainment Expo. [/Gamer]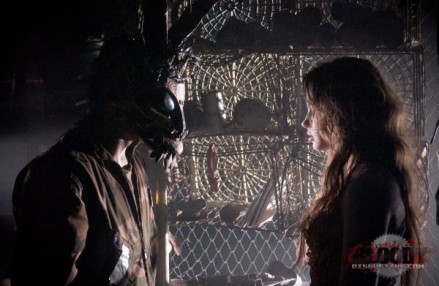 Bloody-Disgusting has a first look at the new bunny suit in the direct-to-dvd Donnie Darko sequel S. Darko.Superbad/Adventureland director Greg Mottola talks about his five favorite films on Rotten Tomatoes : 2001, The 400 Blows, Manhattan, The Godfather Part II, and 8 1/2.
Warner Bros. has acquired Dumped, a comedy Vic Levin will adapt as a star vehicle for Steve Carell based on a novel by Andrew Gottlieb. [Variety]
The Criterion Collection Blu-ray release of Akira Kurosawa's Ran has been canceled due to a rights issue. [ropes]