Battlestar Galactica Composer Bear McCreary Scoring Capcom's Dark Void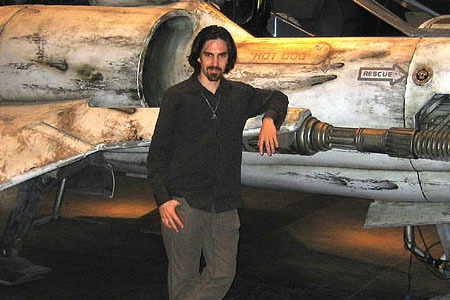 As is usually the case when a great film or television project is over, I've taken an interest in following the key players of Battlestar Galactica to see what they'll be up to next. If it's anything like my years following Whedon alum, their involvement in future projects should at least be an indication that it's worth paying attention to (though I'll admit this doesn't always work out, see Drive). Series composer Bear McCreary is one person that I'll be keeping a particularly keen eye on, and he has now announced that he's working on Capcom's upcoming sci-fi action game Dark Void.
McCreary's work on Battlestar Galactica was among the best music made for television I've ever come across, and while he has yet to shine as brightly in his other work for TV shows (Terminator and Eureka), it's clear that he has the talent to do extraordinary work when the project demands it.
Take a listen to this excerpt from the Dark Void theme and judge for yourself:
McCreary mentioned on his blog that it was Mega Man 2 that initially made him a fan of game music, so it's only fitting that his first game music project is a big Capcom release. He says that this score will be different than his other work because it will be more traditional, and will harken back to old school science fiction scores. From listening to the theme above and the two clips below, he is definitely aiming at the swelling adventure scores like John William's Indiana Jones work and Greg Edmonson's Uncharted score.
An action cue:
Another clip featuring an Ondes Martenot, an early electronic instrument:
Read McCreary's full post over at his awesome Battlestar blog, where he has also embedded a behind the scenes video where he discusses scoring the game, as well as an 8-bit rendition of the Dark Void main theme. Dark Void hits the Xbox 360, Playstation 3, and PC on August 25, 2009.
Discuss: Do you enjoy it when games aim for big orchestral scores? Do you remember when this was a new trend when Michael Giacchino started scoring Medal of Honor?