Fox Refuses To Pay Theater Exhibitors Cost Of 3-D Glasses; Regal Threatens To Show Ice Age 3 In 2-D Only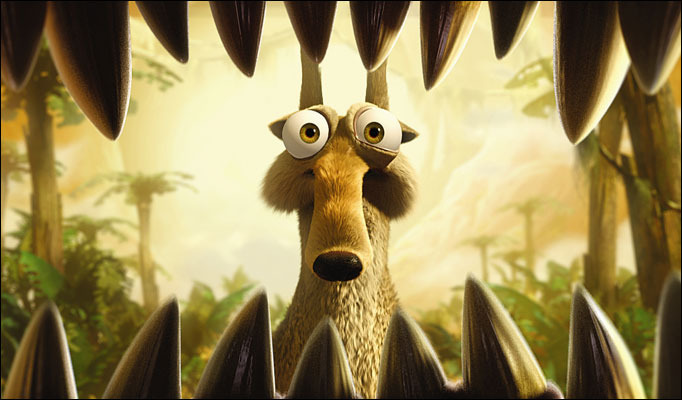 It has been a rough week for 20th Century Fox: First a huge batch of their Slumdog Millionaire DVDs get shipped without special features, then a workprint of one of their major tentpole releases gets leaked onto the internet. To that list, you can now add on one more mess: THR reported this past Tuesday that Fox was doing an about face in its agreement to co-finance the rollout of 3-D screens with theater exhibitors, refusing to pay the fees associated with the use of 3-D glasses (fees that can run over $1 million per film, in order to purchase and pass out the glasses). Now exhibitors, who have already spent millions converting their systems to display 3-D films, are pissed.
I'm already paying fees to RealD for the systems. I'm paying to put in the silver screens and I'm paying to train employees to run the product. To come in at this point and say they aren't going to pay for the glasses, yet they want all the upside of the revenue, is ridiculous.
Furthermore, Regal Theaters, the nation's largest theater chain, is threatening to show Ice Age 3: Dawn of the Dinosaurs (out in theaters on July 1st) in 2-D only. Patrick Goldstein from the LA Times speculates that if indeed Regal refused to show the 3-D version of the film, "Fox could return fire by telling Regal that it will give its 3-D prints to AMC and Cinemark, the country's second- and third-largest theater chains, giving Regal's rivals a competitive advantage." However, a FOX rep claims, "No exhibitor has said they don't want to play Ice Age in 3-D. All we are doing is working out the issues."
I've never much liked the Ice Age films, but there's no question that they're a major cash cow for FOX, with the first two films raking in over $1 billion worldwide for the studio. With 3-D revenues making up over 40% of Dreamworks recent monster hit, is this one expense cut that FOX can afford to make?
via Businessinsider