The Hangover Movie Trailer #2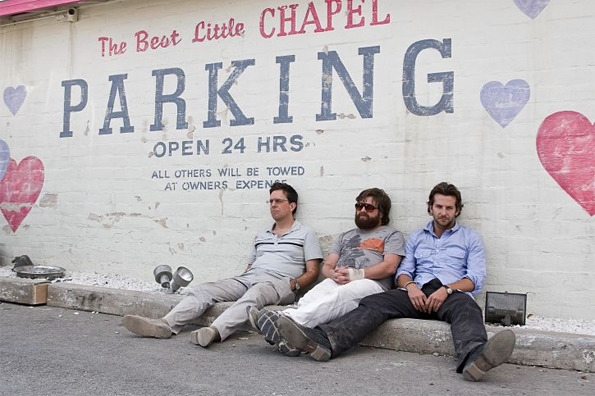 At ShoWest, Warner Bros premiered a new trailer for Todd Phillips' new comedy The Hangover. It's pretty much an extended version of the teaser trailer. The film tells the story of three groomsmen who lose their about-to-be-wed buddy during their drunken misadventures in Las Vegas, then must retrace their steps in order to find him.
Phillips is the director of Old School and Road Trip, and while this movie doesn't look as good as either of those films, it still looks pretty damn funny. And it's rare to find a comedy that isn't either produced by Judd Apatow, starring the regular Apatow crew, Adam Sandler or Will Ferrell now-a-days. The film stars Bradley Cooper, Ed Helms, Zach Galifianakis, Heather Graham, Justin Bartha, and Jeffrey Tambor. Watch the trailer after the jump and tell me what you think in the comments below.
Two days before his wedding, Doug and his three friends drive to Las Vegas for a blow-out bachelor party they'll never forget.  But, in fact, when the three groomsmen wake up the next morning, they can't remember a thing.  For some reason, they find a tiger in the bathroom and a six-month-old baby in the closet of their suite at Caesars Palace.  The one thing they can't find is Doug.  With no clue as to what transpired and little time to spare, the trio must retrace their hazy steps and all their bad decisions in order to figure out where things went wrong and hopefully get Doug back to L.A. in time to walk down the aisle.
Watch the trailer in High Definition on Yahoo. The Hangover hits theaters on June 5th 2009.