Harold Ramis Dishes On Groundhog Day Musical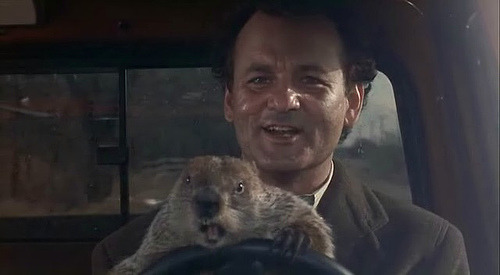 Groundhog Day is one of those films that just gets better every time I watch it, but I can honestly say that I've never imagined the time-skipping antics of  Phil Connors as a musical. Apparently, acclaimed Broadway composer Stephen Sondheim (Sweeney Todd) fancied the idea a few years ago, but nothing came of that. Now the MTV Movies blog is reporting that the musical is actually closer to reality than we think.In a conversation with the film's co-writer/director Harold Ramis, he mentioned that Danny Rubin, co-writer of Groundhog Day, is working on a book for a musical. On Sondheim's potential involvement, he says the following:
Stephen Sondheim was asked what film he would turn into a musical and he said 'Groundhog Day... And I said, 'Wow, that's pretty cool.' James

Lapine

, who directed a lot of Sondheim, actually contacted me and asked if I'd thought about a 'Groundhog Day' musical.
Ramis goes on to say that he's just glad Sondheim took the idea seriously. He has no clue if he'll actually get involved with the musical.
My biggest concern with this project is Rubin, whose initial Groundhog Day script was heavily rewritten by Ramis. Rubin's other screenwriting endeavours were far from successful, and at this point it looks like he's just attempting to revisit his past glory. Like MTV, I'd feel a helluva lot better if Ramis was involved in this production as well.
Even if this project doesn't end up happening (or ends up being terrible), it's still worthwhile to consider what a good Groundhog Day musical would be like. I'd be very interested to see the film's themes and iconic scenes translated to the stage, I just hope that this doesn't give anyone the idea that it's ripe for a modern film remake as well. As we've learned these past few years, nothing is sacred when it comes to remakes.
And for those new to /Film and our undying love for Groundhog Day, consider the following:
The /Filmcast's Groundhog Day commentary with guest Stephen Tobolowsky (Ned Ryerson!)
The /Filmcast's Blu-ray review of the film with Stephen Tobolowsky
Discuss: Do you think the notion of a Groundhog Day musical is a good one? What other great movies would you like to see redone in musical form?