See Dan Fogler's Best Sam Kinison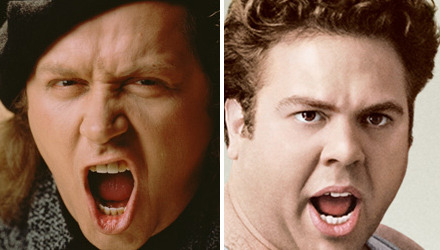 The upcoming Sam Kinison biopic Brother Sam has been written by American Splendor's Shari Springer Berman and Robert Pulcini, and stars Dan Fogler in the lead role. Judging from Fogler's turns in Balls of Fury, Good Luck Chuck and School for Scoundrels, that's a two steps forward, one step backward scenario by my reckoning. Factor in that Ace Venura and Patch Adams perpetrator Tom Shadyac is directing, and we're back at square one.
What might calm my nerves is some indication that when cut free from such insultingly puerile material, Fogler can rise above his scabrous record and actually draw me into a film, not repel me from it. Film School Rejects today found that wondrous thing – Fogler's screen test as Kinison, as uploaded to YouTube.  See the video below the break.
The video has been online since May of last year, today cropping up on a major film site for what I believe is the first time. Why don't people tell me about these things? I need to recruit an army of extra eyes. Extra eyes that can type and use a mouse. Extra eyes that can type and use a mouse and don't want to be paid. I'll love them, my little eyes.
If I'm serious for a moment, I do have it good authority that Fogler is a very talented actor. I don't just want it on good authority, though – I want it on the screen.
When the news broke that a Pulcini-Berman screenplay was being handed over to another director I was pretty disappointed. More recently, however, it has come to light that they too are making another movie. The Extra Man is shooting now, with Paul Dano, Kevin Kline and Katie Holmes amongst the cast. Can't wait.