This Week In DVD: Slumdog Millionaire, Marley & Me, Seven Pounds, And More
We may receive a commission on purchases made from links.
This Week in DVD is a column that compiles all the latest info regarding new DVD releases, sales, and exclusive deals from stores including Target, Best Buy and Fry's.
Please don't take the commentary on the movies and TV shows too seriously, as they're meant not to be reviews but rather previews that include the general thoughts and ramblings of a twice-committed DVD addict. The categories represent solely the author's intentions towards the DVDs at hand, and are in no way meant to be a reflection on what he thinks other people should rent or buy. So if he ends up putting a movie you like in the "Skip it" section without having seen it, please keep in mind that the time you could spend leaving a spiteful but ultimately futile comment could instead be used for more pleasant things in life. Like buying DVDs.

SLUMDOG MILLIONAIRE
Generally this is where I'd try to convince you that the DVD at hand is worth buying. But given that in this particular case the movie is Slumdog Millionaire, I fail to see the point. Between the constant praise we've lavished on the film over the past 5 months on the /Filmcast, the almost unparalleled critical and audience acclaim its received, and the numerous awards its won at the Golden Globes and the Oscars (including Best Picture and Best Director), there's no excuse for not having seen it (or at the very least, having plans to rent it ASAP). Considering that Danny Boyle's previous film (the terrific Sunshine) went almost completely overlooked in 2007, it fills me with great joy to see him hitting people's radars in such a substantial way this soon afterwards.
Blu-ray? Yes.
Notable Extras: Commentary by director Danny Boyle and actor Dev Patel, commentary by writer Simon Beaufoy and producer Christian Colson, a 'Slumdog Dreams: Danny Boyle & The Making of Slumdog Millionaire' featurette, 12 deleted scenes, and a 'Slumdog Cutdown' feature.
EXCLUSIVE DEAL:
What? Exclusive Script.
Where? Target.

TELL NO ONE
I haven't gotten a chance to see this one yet, but if the uniformly excellent reviews are any indication, I'm in for one hell of a ride. Hailed as an intense, twisty and fast-paced whodunit that gives most Hollywood thrillers a run for their money, the premise of Tell No One should hopefully generate some interest amongst people who might not normally pay much attention to foreign films: eight years after the death of his wife, a man receives a mysterious email that shows her alive and well. Consider me intrigued!
Blu-ray? Yes.
Notable Extras: Deleted scenes and outtakes.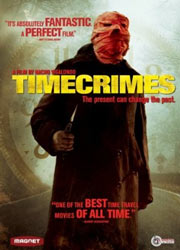 TIMECRIMES
Had I known when I voiced my thoughts on the /Filmcast about this highly entertaining Spanish time travel thriller that it would be dumped to DVD in such a thoughtless manner, I never would've been as vocal about my problems with it as I was. When it comes to impressive little indie films like this, sometimes it's more important to spend that 5 minutes you have to talk about it trying to convince people that it's worth checking out rather than point out how it wasn't quite as amazing as a lot of critics had made it out to be. And rest assured, Timecrimes is absolutely worth checking out, particularly if you're interested in the mechanics of time travel.
Blu-ray? No.
Notable Extras: Featurettes, behind the scenes shorts films, and deleted scenes.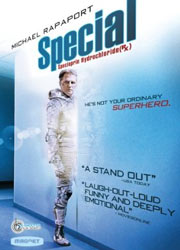 SPECIAL
Alas, just when Michael Rapaport gets an opportunity to prove his worth as a leading man, the film gets a DVD release so slight that most people probably won't even be aware of its existence. Having heard that the movie utilizes micro-budget filmmaking, I can't say I'm entirely surprised, but given its attention-grabbing premise (a lonely man has a psychotic reaction to his medication and becomes convinced that he has superpowers), there was clearly potential for a more substantial release. Whether or not it was deserving of one I'm not yet sure (still need to check out the film to see for myself), but the critical and audience response thus far seems to indicate that this is definitely worth a watch.
Blu-ray? No.
Notable Extras: An audio commentary, a behind the scenes featurette, and deleted scenes.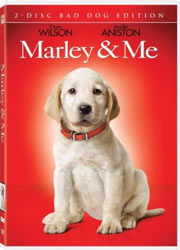 MARLEY & ME
(Available as single-disc and 2-Disc Bad Dog Edition)
Speaking as somebody who loves his two dogs even more than he loves film, I can safely say I am without any "anti-dog movie" bias in proclaiming Marley & Me one of the most pointless film experiences of my life. Although, admittedly, the movie isn't even really about the dog. It's much more focused on Owen Wilson's and Jennifer Aniston's characters, showing their progression from newlywed couple to family and so on. The problem though, is that these people are BORING. Now, I haven't read the autobiographical book that the movie is based on, so I can't comment on the quality of the source material (although I'm assuming the writing is a big part of why it's so loved, since the movie sure spends a lot of time addressing the apparent writing prowess of Wilson's character), but as far as what's presented here, there is nothing about this couple that warranted them getting their own movie. As for its messages, they're handled with all the subtlety and creativity of a Hallmark card. Can somebody please explain to me how the heck critics actually liked this as much as they did?
Blu-ray? Yes.
Notable Extras: Single disc includes deleted scenes and a gag reel. 2 Disc includes that, as well as 5 featurettes (Finding Marley, Breaking the Golden Rule, On Set with Marley: Dog of All Trades, Animal Adoption, When Not to Pee), Purina Dog Chow Marley & Me Video Contest Finalists, Purina Dog Chow Video Hall of Fame, a gag reel, and a digital copy of the film.
*Does not include 2-Disc Edition, which costs $22.99 at each of the listed stores (including Amazon).
EXCLUSIVE DEAL:
What?
Where?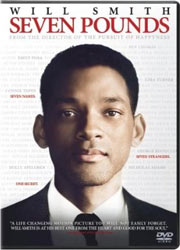 SEVEN POUNDS
The more I hear about this film, the worse it sounds. At this point, the only interest I have in seeing this film is to discover if it's truly as lousy as the reviews have indicated. Interestingly enough though, the audience response has proven much more positive. What does this say about audiences versus critics? You be the judge.
Blu-ray? Yes.
Notable Extras: Director commentary, 4 behind the scenes featurettes, and deleted scenes.
Other noteworthy DVDs available this week...
The IT Crowd (Season 1) – Ricky Gervais: Out of England – The Stand-Up Special – Cthulhu – In Plain Sight (Season 1)

NOTE: Some deals may be in-store only.

$8.99 – Kung Fu Panda, Madagascar: Escape 2 Africa
$7.50 – Bee Movie, Over the Hedge, Shrek the Third, Charlotte's Web, Pink Panther, Madagascar