Box Office: Monsters Vs. Aliens With Almost $12K Per 3-D Screen! The Future Of 3-D Is Looking UP!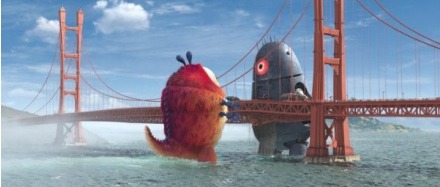 Jeffrey Katzenberg and Dreamworks Animation have definitively proven that Digital 3-D is a blockbuster format. Not only has Monsters vs. Aliens seized a monstrous $58.2M in opening weekend ticket sales, Real-D (the technology provider) and Dreamworks have revealed that $25M or so of that gross was generated specifically from 3-D and IMAX 3-D. Fox is reporting that fully 43% of the total take was from the estimated 2,218 Digital 3-D screens.
That means that the Per Screen Average for the movie in 3-D was about $11,700, while the 4,800 or so traditional 35MM 2-D engagements had a Per Theatre of just an estimated $4,780. Exhibitors who figured out a way to overcome the credit crunch and pay the estimated $100,000 to convert a traditional theatre into one that can show Digital 3-D made a killing this weekend.
Unlike the hokey 3-D of past generations, Real-D technology is nothing short of astonishing. We've come a long way from 50's chestnuts like Bwana Devil starring Robert Stack ("A Lion in Your Lap, A Lover in Your Arms" was the tagline for those that remember. 3-D moviemaking was discovered accidentally as doctors were experimenting with polarized lenses to treat kids with a "lazy eye." Then came trioptiscopic photographt that allowed images to float off of the screen. Industry pioneers like Arch Oboler tried to make a go with 3-D under the clunky moniker Space-Vision, but couldn't make it work. There was some success with that same Space-Vision system with movies like Jaws 3-D, Friday the 13th: Part 3-D and Spy Kids 3-D: Game Over, but nothing like today's state-of-the-art technology.
Hollywood is 40+ major 3-D releases in the pipeline, and there are still only 2,218 individual screens where those movies can play, so the race is on. Digital conversion and Real-D installation will be on the march for exhibitors who can figure out a way to finance the extraordinary expense.
Here are trailers for some of the 3-D features coming soon.
May 1 – BATTLE FOR TERRA (Lionsgate/Roadside Attractions)
What's left of the human race invades a peaceful alien planet called Terra. A Terrian teen, voiced by Evan Rachel Wood from The Wrestler, tries to ward off the humans. Voice cast includes Brian Cox (Running with Scissors), Luke Wilson (3:10 to Yuma), David Cross (Arrested Development), Justin Long (He's Just Not That Into You) and Amanda Peet (Syriana).
May 29 – UP (Disney/Pixar)
As always, it's an odd premise with Pixar. In this one, a cranky old guy decides it's time to see the wilds of South America, so he ties a bunch of balloons to his house. But after Ratatouille, Wall-E, Cars, Toy Story, I've learned to reserve judgment and prepare to be amazed. Featuring the voices of TV legend Ed Asner (The Mary Tyler Moore Show), Pixar vet John Ratzenberger (Cheers), Golden Globe nominee Christopher Plummer (The Insider) and Delroy Lindo (Heist).
July 1 – ICE AGE: DAWN OF THE DINOSAURS (Fox)
The third in the Ice Age series and, possibly, the #1 grossing movie of the summer. Dinosaurs in 3-D is box office gold. Seann William Scott (Dude, Where's My Car), Oscar nominee Queen Latifah (Hairspray), Golden Globe nominee John Leguizamo (Nothing Like the Holidays), Emmy winner Ray Romano (Everybody Loves Raymond) and Denis Leary (Rescue Me) are all featured.
Then comes Harry Potter & the Half-Blood Prince in IMAX 3-D only on July 17, followed by G-Force on July 24, Final Destination: Death Trip 3-D on August 14, Cloudy with a Chance of Meatballs on September 18, the reworking of Toy Story in the 3-D format October 2, Astro Boy on October 23, Disney's A Christmas Carol on November 6, Planet 51 for Thanksgiving and, finally, James Cameron's long-awaited Avatar.