Page 2
[No photo]SmokeInTheCity captured this photo of John Noble drinking a Slusho! on the New York City set of the JJ Abrams-produced television show Fringe. [via: CloverfieldClues]Travis Barker, drummer for Blink-182, tweeted that he is working on a song with (or featuring?) Busta Rhymes for the Transformers: Revenge of the Fallen Soundtrack.Marc Forster will not be directing a biopic about Nirvana frontman Kurt Cobain, as has been rumored. [MTV]Weird Al has filmed a brief cameo appearance on for Rob Zombie's Halloween sequel H2. [Shock]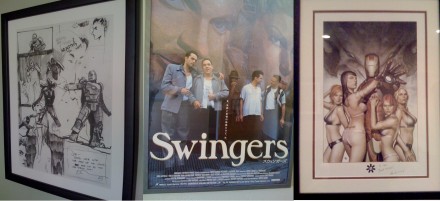 Jon Favreau continues the geek tour of his house on Twitter with Sketchbook page from Iron Man storyboard artist Eric Ramsey of Mk1 from cave escape, a Japanese poster for Swingers and original Adi Granov Iron Man cover art.Matthew McConaughey has been cast in the legal thriller The Lincoln Lawyer for Lakeshore Entertainment. [Variety]
Academy Award-winning screenwriter William Monahan has signed on to write and direct The Essex, a historical drama about Capt. David S. Porter and his daring sea battles against the British during the War of 1812. [FirstShowing]
M Night Shyamalan will be shooting scenes for The Last Airbender next week in Reading, PA at the Pagoda, a century-old Japanese-style structure on Mount Penn. [MCALL] (thanks to /Film reader kad93)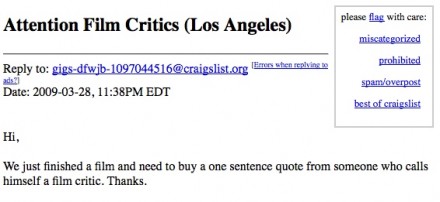 The above posting was discovered on CraigsList by Greencine , with an author searching to purchase a one sentence pull quote from a working film critic. Pathetic.
Brett Ratner has decided to star publishing books and has launched "Rat Press ". Books which will be released from the imprint include a James Toback memoir about his friendship with NFL running back Jim Brown, as well as two interview books from Playboy's Lawrence Grobel — one featuring producer Robert Evans and the other featuring Marlon Brando.Rachel McAdams has revealed that Eric Bana was the "holdup" for the Time Traveler's Wife reshoots: "He had to shave his head for a different role, for Star Trek, I think. So we were waiting on Eric's hair." [Sci-Fi]Los Angeles Times ran a cover story on Sunday about screenwriters turned producers Roberto Orci and Alex Kurtzman.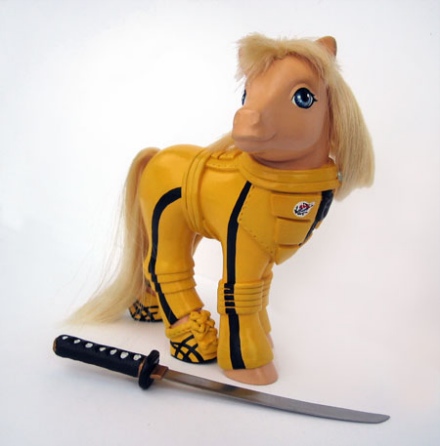 The Guardian has a feature on cinematically customized My Little Pony figures, which includes the My Little Kill Bill Pony above. (Thanks to /Film reader Gregory W)
Paramount Pictures has extended its deal with JJ Abrams' Bad Robot Productions., keeping the company on the lot through 2013. [Variety]
Rumor has it that Disney might partner up with Hulu to provide free ad-supported content.
Entertainment Weekly has published a list of the top 20 heroes in pop culture in one of those extremely annoying slideshows. James Bond beats out Indiana Jones and Superman for the top honor.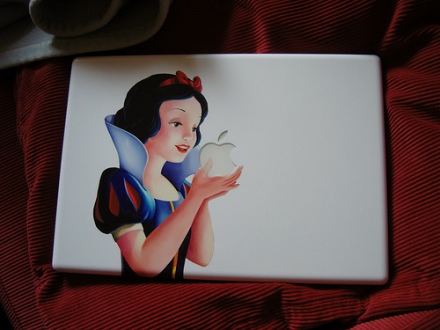 You have to admire this Snow White-customized Macbook. [Flickr]
The first tickets for Transformers: Revenge of The Fallen go on sale on June 10th 2009. [screenrant]
TrailerSmash has a good music video mashup of Where the Wild Things Are and Let The Right One In.
Some people think the bald headed snarly alien named Gallaxhar in DreamWorks Animation's Monsters vs. Aliens looks a little like CEO and co-founder Jeffrey Katzenberg. Co-director Conrad Vernon insists that it was "obvioulsy nothing intentional." [nytimes]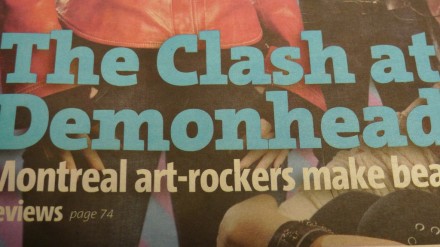 Edgar Wright has posted an image teasing a newspaper cover story of The Clash at Demonhead from his upcoming adaptation of Scott Pilgrim vs. The World. Demonhead is a band featuring Scott Pilgrim's ex-girlfriend Envy Adams' band, who in the comic books, went on to make it big, and invites Scott's band Sex Bob-Omb to open for one of their shows.
Twitter has suspended the fake Christopher Walken twitter account that has been the focus of recent online media reports. Twitter users are sad/angry about this latest development.
A musical stage adaptation of Green Day's 2004 album "American Idiot" will open the 2009-10 season at Berkeley Repertory Theater. Could a big screen adaptation be next? [Variety]