Exclusive: Dave McKean Taking Varjak Paw To Buf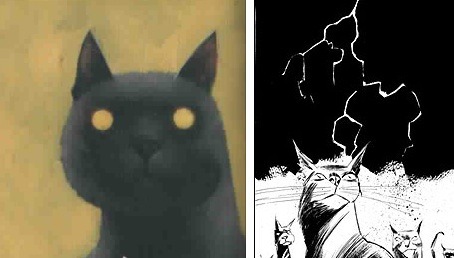 S.F Said's novels Varjak Paw and The Outlaw Varjak Paw are probably the best mystical martial arts tales with a Mesopotamian blue kitten for a protagonist that you are ever going to read, for reasons both bad (there just aren't enough of them out there) and good (they're brilliant). Way back in March 2006, it was announced in The Hollywood Reporter that Dave McKean, the illustrator of the books, was going to adapt them into his second feature film. 2006! I'd all but given up hope of ever seeing the film...
Today, McKean was in town for the Oxford Literary Festival, taking part in a discussion and Q&A with David Almond, with whom he has recently collaborated on the superb illustrated book The Savage. Varjak Paw didn't come up in conversation at all, and neither was any Paw artwork among the many slides McKean showed us, but when it came to the Q&A session, I simply had to ask for status on the kick-ass kitty. And the news was very good.
Amazingly, McKean is going to France tomorrow for a meeting with Buf. They are an FX and animation house with The Dark Knight, Speed Racer, The City of Ember and Splice amongst their credits. The plan, from what McKean told me, was that he and Buf would likely collaborate on a test sequence and then use this to secure funding for a feature film that Buf would then produce. McKean mentioned a budget of $20 million for the film, though it wasn't clear how precise he was being.
Even this test sequence is likely to be showstopping stuff. At the heart of Varjak Paw are two very difficult things to realise: a cat that can do martial arts; and that cat's subtle, well realized character. This is going to need to be the Gollum of fighting cats, but most likely in a far less naturalistic aesthetic. I can't wait.
McKean confirmed that he had adapted the screenplay with S.F Said, the creator, and that while it is largely comprised of the events from the first book, some elements of the second book had been woven in.
This will be Buf's first feature film production, rather than FX assignment, and they've done well in selecting it. McKean seemed to have a handful of reservations about Mirrormask, his debut film, but then again so do I and, ultimately, I'd have to say I still love it. His short film work is incredible to behold and his oeuvre of illustration, comics work and design are verging on the unbelievably rich, innovative and accomplished.
As well as telling, McKean also did some showing and treated the audience to a wealth of images from projects old and new. His upcoming books include collaborations with the chef Heston Blumenthal, who McKean has dropped into a Winsor McCay styled Little Heston in Breakfastland strip as just a fraction of a huge, densely illustrated recipe-book-come-biography; with Neil Gaiman, for the illustrated poem Crazy Hair; and once again with David Almond for Slog's Dad. That story can actually be read online now, in an un-illustrated text-only form, and I'd recommend you do. McKean's strategy in illustrating Slog's Dad seems somewhat Rashomon-ical, with different styles representing different perspectives on the 9deceptively) simple events detailed.
Also teased were some of McKean's solo projects, including a guide book to Paris, exhibitions of work inspired by silent movies and a new comic called Caligora, somehow based upon The Cabinet of Dr. Caligari. That was the most breathtaking, at least by the measure of my lungs. It looked immediately persuasive and effective and beautiful and powerful – and not really much like The Cabinet of Dr. Caligari.
David Almond also had some film news of his own, though it was somewhat more vague. Now that his brilliant debut novel Skellig has been filmed, with the resulting movie premiering on the UK's Sky 1 over the Easter Weekend, there is also an adaptation of his cuban missile crisis story The Fire Eaters on the cards. For some reason which I can't fully explain and definitely shouldn't be excused, I never actually finished reading The Fire Eaters. I wish I had – not least because I couldn't then have possibly mentioned to Almond that I hadn't finished it and made myself sound like an utter pranny. This film, he said, is being developed for the big screen, unlike Skellig, but there was sadly no more detail available.
McKean and Almond's The Savage is an innovative blend of novel types, illustrated, un-illustrated and graphic. Fans of either would do well to pick it up, if not for themselves then for the "young readers" in their lives.