Box Office: Monsters Vs. Aliens With $16M Friday & Possible $56M Opening Weekend!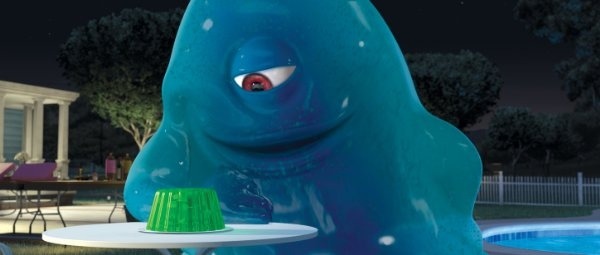 It is an excellent weekend for Dreamworks Animation. Although the credit crunch prevented financing that would allow exhibitors to undertake the digital conversion of more of its theatres, Monsters vs. Aliens is benefiting spectacularly from the 2,075 or so standard Digital 3-D engagements and the added 143 Digital IMAX runs. The audaciously ambitious animated send-up of 50's B-movies has used the "bleeding edge" of technology to milk an estimated $16M in opening day ticket sales, which could translate to $56M or so for the 3-day weekend according to competing studio execs. (They all explained that we are in uncharted territory here with 3-D upcharges and the widest 3-D IMAX release ever. Everyone that I have spoken with has the movie over $55M.)
If that number holds, and, if anything, they could drift higher as family audiences flood America's multiplexes, Monsters vs. Aliens will be the all-time third-best opening in the month of March.
ALL-TIME TOP 5 MARCH OPENINGS
1. 300 – $70.8M opening
2. Ice Age: The Meltdown – $68M opening
3. Monsters vs. Aliens (2009) – $56M opening (projected estimate)
4. Watchmen – $55.2M opening
5. Ice Age – $46.3M opening
But this is more than a conventional 35MM movie. This kind of number sends a message to theatre owners, credit markets and other studios that the all-new Digital 3-D is here to stay. With 40+ major 3-D movies on the way to the marketplace, it was important for MVA to demonstrate the potential of this new technology.
Yes, Dreamworks Animation head Jeffrey Katzenberg wanted more 3-D screens to be ready (he was hoping for at least 1,000 more), but this is a triumph.
As always, I am monitoring the Twitter-verse for instant reactions from movie-goers who have seen the film on opening day. It is very hard to find anyone with a negative reaction.
Kids and I just home from Monsters vs. Aliens 3-D version. WOW, 3-D has come a long way!
Imax + 3-D totally worth it just to watch your kid try to reach out and grab things in mid-air
Did Monsters vs. Alien in 3-D today with the family. My first 3-D movie at a theater, very cool we had a BLAST!
Monsters Vs. Aliens, 8 thumbs up from the family! Great job with the 3-D as well, not cheesy at all unlike 3D movies when I was a kid.
Saw Monsters vs. Aliens in 3-D today. Go see it. It's freakin' cool!
The 3-D glasses these days are cool–they look like sunglasses
LOVED LOVED LOVED Monsters vs. Aliens. Fun for grown ups and kids. And I still have the marks on my face from the 3-D glasses. Can you tell?
The 3-D version of Monsters vs. Aliens is presented in modern Digital 3-D. The original 3-D movies of the 1950's like Bwana Devil, starring Robert Stack, were primitive, but became a sensation. That movie's tagline was "A Lion in Your Lap, A Lover in Your Arms," and it was presented using polarized images by Arch Oboler's production company.
Then Oboler and a former US military 3-D mapmaker developed trioptiscope that allowed images to float off of the screen. They dubbed this Space-Vision, and it required the use of those infamous cardboard glasses with the red and green cellophane lenses. Oboler released a movie called The Bubble in the late 1960's, which failed to catch on, and then it was renamed and re-released in 1976 as The Fantastic Invasion of Planet Earth. The modest success of the latter version of the movie led to a new generation of filmmakers trying their hand at 3-D. Along came Friday the Thirteenth: Part 3-D (1982), Jaws 3-D (1983) and Amityville Horror 3-D (1983). Same Space-Vision technology with cardboard glasses and loads of cheap gimmickry.
The monstrous opening weekend for Monsters vs. Aliens easily dwarfs previous 3-D releases including all-time champ Spy Kids 3-D from 2003 (in old-style Space-Vision).
ALL-TIME TOP 12 OPENINGS FOR 3-D MOVIES
- identified with year of release & type of 3-D -
1. Monsters vs. Aliens (2009 – Digital 3-D) – $56M opening (projected estimate)
2. Spy Kids 3-D: Game Over (2003 – Space-Vision 3-D) – $33.4M opening – $111.7M cume
3. Hannah Montana: Best of Both Worlds Concert Tour (2008 – Digital 3-D) – $31.1M opening – $65.2M cume
4. Beowulf (2007 – Digital 3-D) – $27.5M opening – $82.3M cume
5. The Polar Express (2004 – Digital 3-D) – $23.3M opening – $180.8M cume
6. My Bloody Valentine 3-D (2009 – Digital 3-D) – $21.2M opening – $51.5M cume
7. Journey To the Center of the Earth (2008 – Digital 3-D) – $21M opening – $101.7M cume
8. Coraline (2009 – Digital 3-D) – $16.8M opening – $73.6M cume
9. Jaws 3-D (1983 – Space-Vision 3-D) – $13.4M opening – $45.5M cume
10. Jonas Brothers: The 3-D Concert Experience (2009 – Digital 3-D)- $12.5M opening – $19.1M cume
10. The Adventures of Sharkboy & Lava Girl 3-D (2005) – $12.5M opening – $39.1M cume
12. Friday the Thirteenth: Part 3-D (1982 – Space-Vision 3-D) – $9.4M opening – $36.7M cume
Based on an opening weekend of this magnitude, Monsters vs. Aliens will chart a course for $190M-$200M in the US. It is possible that it will exceed the $215M scored by last summer's Kung Fu Panda, also from Dreamworks. The worldwide box office number may top $525M.
Lionsgate is proving that there is always room for a genre pic with an above average start for The Haunting in Connecticut. With Oscar nominee Virginia Madsen (Sideways) as the only real name on the marquee, the low budget PG-13 scarefest scored a very solid $7M on opening day to kick off what should be a possible $18.2M weekend. (I would argue that the incredibly creepy poster is responsible for the surprisingly strong debut.)
Summit's Knowing, directed by Alex Proyas and starring Nicolas Cage, has held up far better-than-expected. Last weekend's champ added $4.8M on its second Friday, and its 3-day target is $14.4M, enough for third place. That would give the film a 10-day cume of $45.91M.
The hilarious I Love You, Man (Dreamworks/Paramount) will probably dip only 30% or so from its opening. The John Hamburg comedy delivered another $4M in ticket sales, and it is #4 and cruising toward a possible $12.2M by Monday morning for a new cume of $36.6M.
Bad news for Tony Gilroy's Duplicity (Universal), starring Julia Roberts and Clive Owen. The adult comedy/mystery slumped to just $2.2M to start the frame, and it will manage only a fifth-place finish with $7.26M or so. That is a 48% drop and a new domestic take of just over $25M.
Meanwhile, pro wrestler-turned-actor John Cena and former superstar director Renny Harlin (Diehard 2, Cliffhanger) have launched 12 Rounds (Fox), which has failed to ignite much excitement. The action flick managed only $2.8M on Friday and is headed for an underwhelming $7.56M opening.
EXCLUSIVE STEVE MASON EARLY FRIDAY ESTIMATES
1. NEW – Monsters vs. Aliens (Dreamworks/Paramount) – $16M, $3,899 PTA, $16M cume
2. NEW – The Haunting in Connecticut (Lionsgate) – $8M, $2,928 PTA, $8M cume
3. Knowing (Summit) – $4.8M, $1,438 PTA, $36.31M cume
4. I Love You Man (Dreamworks/Paramount) – $4M, $1,472 PTA, $28.4M cume
5. Duplicity (Universal) – $2.2M, $853 PTA, $20.28M cume
6. NEW – 12 Rounds (Fox) – $1.9M, $815 PTA, $1.9M cume
7. Race to Witch Mountain (Disney) – $1.8M, $551 PTA, $49.45M cume
8. The Last House On the Left (Rogue) – $800,000, $356 PTA, $26.24M cume
9. Watchmen (Warner Bros) – $725,000, $361 PTA, $101.26M cume
10. Taken (Fox) – $650,000, $331 PTA, $134.02M cume
EXCLUSIVE STEVE MASON EARLY 3-DAY ESTIMATES
1. NEW – Monsters vs. Aliens (Dreamworks/Paramount) – $56M, $13,645 PTA, $56M cume
2. NEW – The Haunting in Connecticut (Lionsgate) – $19.2M, $7,028 PTA, $19.2M cume
3. Knowing (Summit) – $14.4M, $4,315 PTA, $45.91M cume
4. I Love You Man (Dreamworks/Paramount) – $12.2M, $4,490 PTA, $36.6M cume
5. Duplicity (Universal) – $7.26M, $2,815 PTA, $25.34M cume
6. Race to Witch Mountain (Disney) – $6.21M, $1,900 PTA, $53.86M cume
7. NEW – 12 Rounds (Fox) – $5.32M, $2,282 PTA, $5.32M cume
8. The Last House On the Left (Rogue) – $2.48M, $1,102 PTA, $28.32M cume
9. Watchmen (Warner Bros) – $2.46M, $1,226 PTA, $103M cume
10. Taken (Fox) – $2.08M, $1,061 PTA, $136.45M cume