The /Filmcast: Bonus Episode - A Spoiler-Filled Discussion On The Battlestar Galactica Finale (GUESTS: Meredith Woerner From Io9, Myles McNutt From Cultural Learnings)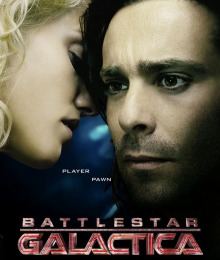 In this epic bonus episode of the /Filmcast, Devindra Hardawar, Meredith Woerner (from io9), and Myles McNutt (from Cultural Learnings) discuss the Battlestar Galactica series finale. Spoilers abound, so if you haven't yet seen the finale proceed no further. The discussion is meandering, emotional, and most importantly, geeky, so expect many more topics brought up than what's listed below.
As always, if you have any feedback, feel free to e-mail us at slashfilmcast(AT)gmail(DOT)com, or call and leave a voicemail at 781-583-1993.
Download or Play Now:
Subscribe:
Topics Discussed
Meredith at the Battlestar Galactica U.N. event
Our overall thoughts on the finale, season four, and some talk on the series as a whole
The controversial final scenes
The use of God/spirituality
The use of technology as a tool of destruction
How Battlestar Galactica forever changed science fiction television
Music Cues
The Shape of Things to Come (2:17:04)
Credits
Contact us at our new voicemail number: 781-583-1993
You can donate and support the /Filmcast by going to www.slashfilmcast.com and clicking on the right-hand side "Donate" links!