Behind The Scenes Of Neil Marshall's Centurion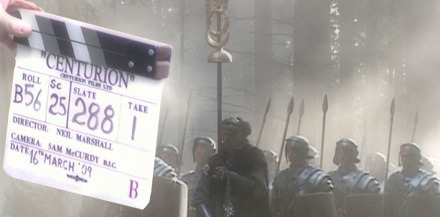 Our friends at Rotten Tomatoes went to the set of Neil Marshall's epic action film Centurion and have posted a short behind the scenes video which intercuts filming with on set interviews.
I'd recommend that anyone who wants to know more about the movie just watch the video because it explains everything in a minute and a half. Set in 117 AD, the film tells the story of a group of Roman soldiers who must fight for their lives behind enemy lines after their legion is decimated in a devastating guerrilla attack. For those who might not remember, Neil Marshall broke onto the scene with Dog Soldiers, but the horror film The Descent gained him more mainstream attention. His follow-up last year, Doomsday, was critically and publicly slammed. Centurion, from all indications thus far, seems like it is a lot more focused. Watch the video embedded after the jump.