Page 2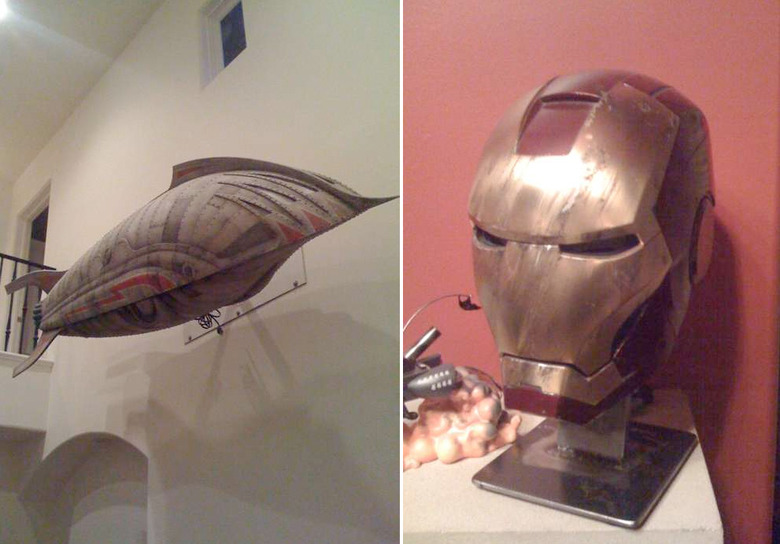 Jon Favreau's Twitterpic geek tour of his house continues with a photo of a Zorgon spaceship from Zathura and a screen worn Mark 3 helmet from Iron Man. Click here to see the previous photos.
Production is set to begin in May on a new Ben Hur miniseries for ABC. [Variety]
Kevin Smith's A Couple of Dicks is set to begin filming in New York City in May 2009. [Production Weekly]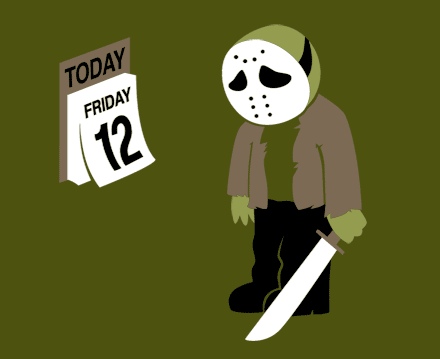 For him, it's never TGIF. February 12th must be depressing for Jason Voorhees. Snorg Tees is selling the above design on a t-shirt.
Joe Dante talks about the trailer for Madmen of Mandoras over on Trailers From Hell.AICN has a reader review of an early test screening of Sacha Baron Cohen's Bruno: "Bruno is funny as hell. It's very, very funny. It's crazier than anything you've seen in a mainstream theatre, and yes, that includes Borat." ... "There are some scenes that were so incredibly funny that I, and everyone else, barely kept from dry heaving." ... "it's surely the funniest thing I've seen this year." ... "my biggest issue with Bruno, however, is that there are parts that feel too contrived."Nicolas Cage's 1931 Dracula poster movie, only one of three known existing copies, sold for $310,000 at Heritage Auction Galleries' Spring Vintage Movie Poster auction. [SciFi]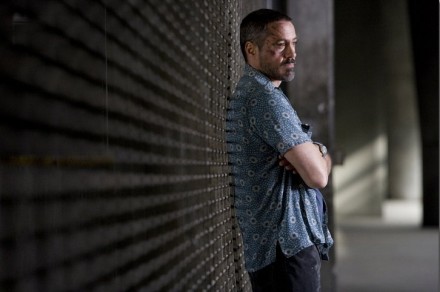 Ropes of Silicon has 30 photos from The Soloist.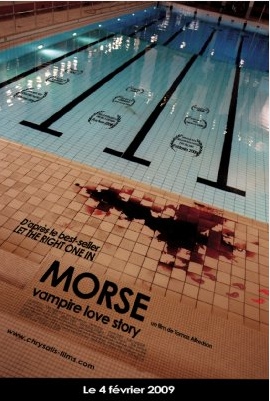 Stone Cold Steve Austin has been cast in The Stranger, an action thriller to be directed by Rob Lieberman. [THR]Film School Rejects takes a look at 10 cinematic houses you don't want to live in.
Summit has acquired the rights to the controversial biography The Secret Life of Houdini: The Making of America's First Superhero by William Kalush and Larry Sloman. [THR]
Alex from FirstShowing pointed me towards this really cool French poster for Let The Right One In, which is probably the best of the bunch I've seen released online.
Paste Magazine has an article on the best movie houses in America. No surprise that the Alamo Drafthouse and Coolige Corner Theater are included, but why no love for San Francisco or Los Angeles theaters like the Castro Theater, The Arclight or New Beverly?
To celebrate the 10th year anniversary of The Matrix, the Aero Theatre in Santa Monica will screen the entire Matrix trilogy on Saturday (March 28th) beginning at 5:00pm. Admission is $10. After the first movie, film historian and author Eric Lichtenfeld will host a panel discussion with "Matrix" editor Zach Staenberg, costume designer Kym Barrett and supervising sound editor Dane A. Davis. [Hero Complex]
Summit Entertainment is in talks to acquire former DreamWorks exec Marc Haimes' original screenplay Elevator Men, a dark thriller which "takes a less romanticized look at the human-vampire" relationship, and "creatures play diabolical mind games with people, including one that involves an elevator, hence the title." [THR]