Peter Chung's Firebreather Is Coming, But There's More Good Stuff Too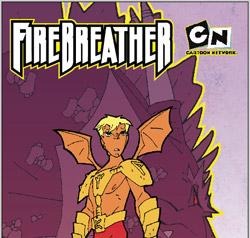 Note: There's some Genndy Tartakovsky news in this post somewhere too, if you wait for it.
Peter Chung was the creator of Aeon Flux before Karyn Kusama put it through the lemoniser, and director of a couple of Matrix and Chronicles of Riddick tie-in toons, a storyboard artist on the Transformers series and also their rawktastic animated film. He's now preparing a CG feature called Firebreather and I've been told his fans won't be the tiniest bit disappointed...
Peter Chung is attached to direct Firebreather . All CG feature produced by Cartoon Network. A high school kid finds out that he is destined to protect the world and that his dad is a firebreathing Dragon. Tough break. A Ben 10 writer is handling the screenplay.
I hadn't heard of the project, but I did Google up the image at the top. Not the CG aesthetic the Network have announced for the show... so is it concept art? Nope. The film is apparently adapted from a comic by Phil Hester and Andy Kuhn. New to me. Found out by looking up the comic that the Dragondad is an evil genius. Also that the conic was originally pitched to Marvel as a Young Avengers project featuring "the son of Fin Fang Foom".
That show's not even the half of it, however. Here are the other scoops of delicious/salty from the upfronts:
Is Paul Dini the next Joss Whedon? Maybe, maybe. He's scripting a live action pilot for the network called Prepped. Teens wake up in an inescapible prep school and aren't told why they are there. The hero starts a secret society to fight back and solve the mystery. Keep an eye out for this one.
Something called Generator Rex is about a kid with some nanotechnology enhancements. He makes machine add-ons with his body and uses them to track down other mutated types, 'cept they've gone bad.
Genndy Tartakovsky is back with Symbionic Titan. Sounds bit like Prepped and a bit like Rex. Set in high school but features mech battles. Wish fulfillment ahoy! Lead characters are refugees from a war torn planet, which might rock a few Conservative boats. Bet you like that.
You bet.
I'm half expecting more updates, but there's been radio silence for a while now. Anything too exciting and I'll make another post.