Sean Penn, Jim Carrey And Benicio Del Toro Are The Three Stooges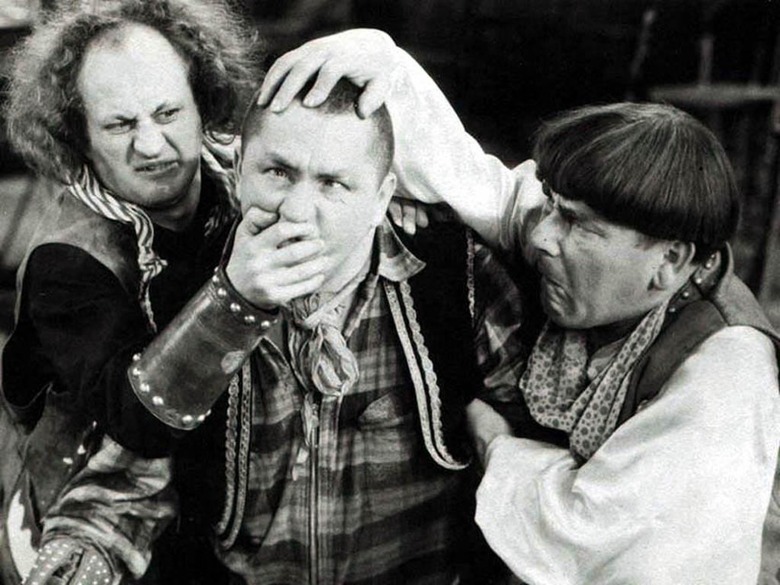 Casting is finally being announced for the Farrelly Brothers' The Three Stooges, and the only real surprise is that Jim Carrey is in talks to play Curly. Carrey is planning to gain 40 pounds for the role so that he can more closely match the physical look of Jerome "Curly" Howard. Sean Penn is set to play Larry, and Benicio Del Toro is currently in talks to play Moe, but both of those names have been reported on the site previously. Even Jim Carrey had been rumored to be involved at some previous point of time. The movie is not a biopic, but a comedy that follows the antics of the trio. I've heard the script is split into four chapters and is kinda episodic, with the trio breaking up and going their own separate ways.
I use to be such a huge fan of the Farrelly Brothers. I mean, these are the same guys who directed Dumb and Dumber, There's Something About Mary and Kingpin. But they haven't helmed a really good film in at least 8 years (Osmosis Jones, Shallow Hal, Stuck on You, Fever Pitch, The Heartbreak Kid). The fact that the film didn't get off the ground at Warner Bros doesn't exactly instill faith in the project. And honestly, a Three Stooges movie just sounds like a horrible idea, even with the level of talent attached.
Discuss: What do you think of the casting choices for The Three Stooges?
source: Variety