Dennis Quaid Is Bill Clinton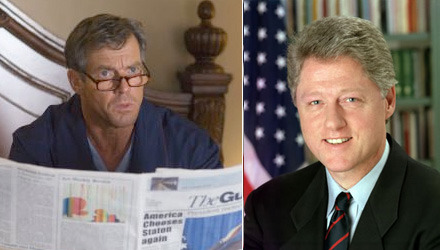 Dennis Quaid is set to play President Bill Clinton and Michael Sheen will reprise his role as British Prime Minister Tony Blair in HBO Film's The Special Relationship. The movie tells the story of the "unique and sometimes turbulent political relationship between the newly installed PM and the U.S. president."Frost/Nixon playwright Peter Morgan will make his directorial debut based on a screenplay he also wrote. Sheen previously played Blair in The Queen and the television movie The Deal, both of which were also scripted by Morgan. Julianne Moore has also signed on to play Hillary Clinton.
Josh Brolin seemed like an extremely odd choice to play George W. Bush in Oliver Stone's W., but ended up surprising everyone. Quaid seems like a more obvious casting choice for Clinton, but is that a good thing? People might not remember this but Quaid has played a President on the big screen before — in the 2006 comedy American Dreamz.
Discuss: Do you think that Dennis Quaid is a good choice to play Bill Clinton?
source: Variety