This Week In DVD: Quantum Of Solace, Bolt, Watchmen: Tales Of The Black Freighter, And More
We may receive a commission on purchases made from links.
This Week in DVD is a column that compiles all the latest info regarding new DVD releases, sales, and exclusive deals from stores including Target, Best Buy and Fry's.
Please don't take the commentary on the movies and TV shows too seriously, as they're meant not to be reviews but rather previews that include the general thoughts and ramblings of a twice-committed DVD addict. The categories represent solely the author's intentions towards the DVDs at hand, and are in no way meant to be a reflection on what he thinks other people should rent or buy. So if he ends up putting a movie you like in the "Skip it" section without having seen it, please keep in mind that the time you could spend leaving a spiteful but ultimately futile comment could instead be used for more pleasant things in life. Like buying DVDs.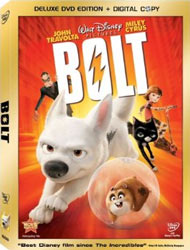 BOLT(Available as single-disc and 2-Disc Deluxe Edition)
Five months ago, the only opinion I thought I'd be spreading in regards to Bolt was pure unbridled hatred. As a major supporter of Lilo & Stitch, I had been following co-writer/director Chris Sanders follow-up project American Dog since the first day it was announced, and everything about the movie looked fantastic. But the higher-ups at Disney weren't as confident, and questioned the film's marketability. Their solution was to remove Sanders from the project and give it a substantial overhaul. Bolt was the result of that overhaul. I wish I could tell you that it's terrible, and the people at Disney made a huge mistake... But damn it all, it's actually a really solid movie. While I do still wish I could've seen what Sanders had in store for us, there's also no denying that Bolt is incredibly well-made, consistently funny, and genuinely heartfelt. I plan on buying it.
Blu-ray? Yes.Notable Extras: 2-Disc includes 'Super Rhino' animated short, In Session with John Travolta and Miley Cyrus, 'A New Breed of Directors', Deleted Scenes, 'Act, Speak! The Voices of Bolt', 'Creating the World of Bolt' and Digital Copy.
BEST PRICE*
Target
Best Buy
Fry's
$15.99
$16.99
$15.99
Amazon – $15.99
*Does not include 2-Disc Edition, which costs $22.99 at each of the listed stores (including Amazon).
EXCLUSIVE DEAL:What? Save $10 when you buy both Bolt and Lilo & Stitch DVDs.Where? Target.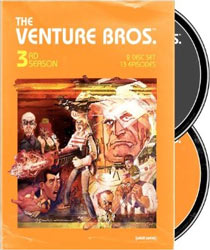 THE VENTURE BROS. (SEASON 3)
If you haven't been watching The Venture Bros., you're missing out on one of the best shows TV has to offer. In essence, it's a parody of Hanna-Barbera cartoons like Johnny Quest, but it also cleverly interjects a ton of other hilarious homages and pop culture references in every episode. Even the DVD cover art is an homage, paying tribute to the classic game artwork from the Atari 2600. That's not to say the show is comprised only of pop culture jokes, as it also has excellent characters, side-splittingly funny dialogue, and fascinatingly bizarre storylines. Season 3 isn't quite up to par with Seasons 1 and 2, due in large part to its focus on flashbacks, but it's still some of the best entertainment a geek could ask for. Bring on Season 4!
Blu-ray? Yes.Notable Extras: Uncensored episodes, commentaries and deleted scenes.
BEST PRICE
Target
Best Buy
Fry's
$18.99
$19.99
N/A
Amazon – $18.99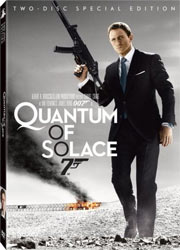 QUANTUM OF SOLACE(Available as single-disc and 2-Disc Special Edition)
I actually enjoyed Quantum of Solace quite a bit in theaters, but I consider it a pretty bad sign that I can barely remember anything that happened in it. Not to mention, I don't have much interest in checking it out again. Meanwhile, the moment I start thinking back on Casino Royale, I suddenly get the urge to rewatch it... For probably the twentieth time. I still think Quantum of Solace is a decent film, mind you, but with its lackluster narrative and borderline incoherent action sequences, I doubt people are going to look back on it as one of the standout highlights of the Bond franchise.
Blu-ray? Yes.Notable Extras: 2-Disc will include a 24-minute 'Bond on Location' feature, additional featurettes (Start of Shooting, On Location, Olga Kurylenko and the Boat Chase, Director Marc Forster, The Music), and crew files.
BEST PRICE*
Target
Best Buy
Fry's
$15.99
$16.99
$15.99
Amazon – $16.99
*Does not include 2-Disc Edition, which costs $22.99 at Best Buy and Amazon, and $24.99 at Target.
EXCLUSIVE DEAL:What? Exclusive book with 2-Disc Edition ($24.99).Where? Target.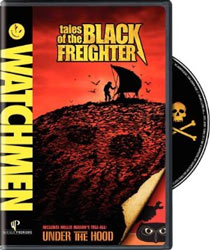 WATCHMEN: TALES OF THE BLACK FREIGHTER & UNDER THE HOOD
Some viewers may have been less than thrilled with Zack Snyder's film adaptation of Watchmen, but the mere fact that these two shorts exist should at least earn him respect amongst fans for how passionate he was about the project. Not only did he create an animated version of the comic-within-the-comic from Alan Moore's graphic novel, he also created a mock-documentary to try to replicate the excerpts of Hollis Mason's autobiography. While I can't say I particularly like the idea of these being released on their own separate DVD, seeing as how Tales of the Black Freighter will actually be included in Snyder's Director's Cut of the film (and I can only assume that Under the Hood will be included as a special feature), it's nice to have them easily accessible right now instead of having to wait several months.
Blu-ray? Yes.Notable Extras: 'Story Within A Story: The Books of Watchmen' featurette.
BEST PRICE
Target
Best Buy
Fry's
$16.99
N/A
Amazon – $16.99
EXCLUSIVE DEAL:What? Exclusive Steelbook Edition ($19.99).Where? Best Buy.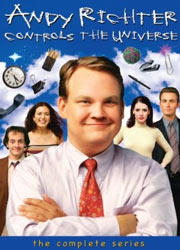 ANDY RICHTER CONTROLS THE UNIVERSE (THE COMPLETE SERIES)
Andy Richter Controls the Universe is yet another quality show that was poorly handled by FOX and then subsequently found itself cancelled due to poor ratings. Now, over six years later, it finally gets its DVD release. It's about damn time! The only reason I'm not listing this on the "buy it" section is because it's been awhile since I've seen the show, and as a result I can't say whether or not it stands the test of the time (or alternatively, if I was just an idiot for liking it in the first place). However, I do remember loving its oddball sense of humor and bizarre flights of fancy, so I definitely intend on renting it to help remind me of what I've (maybe) been missing. I hope you guys will do the same.
Blu-ray? No.Notable Extras: Two audio commentaries with Andy Richter and creator Victor Fresco, and two featuretts ('How Andy Richter Controlled The Universe', 'What If Andy Richter Controlled The Universe?').
BEST PRICE
Target
Best Buy
Fry's
N/A
$34.99
N/A
Amazon – $27.99
Other noteworthy DVDs available this week...The Life and Times of Tim (Season 1) – In Treatment (Season 1) – Lilo & Stitch (2-Disc Big Wave Edition) – The Cake Eaters – The Riches (Season 2) – The Last Metro (Criterion Collection) – Gardens of the Night – Fling

NOTE: Some deals may be in-store only.

$10 – Spider-Man 3, The Chronicles of Narnia: The Lion, The Witch & The Wardrobe, The Other Boleyn Girl, Open Season

$5.99 – Reservoir Dogs (15th Anniversary Edition), The Bourne Identity, The Bourne Supremacy, Lock Stock & Two Smoking Barrels, Smokin' Aces, The Lost Boys, Running Scared, Crank, The Italian Job, and More