Amanda Seyfried OUT Of Zack Snyder's Sucker Punch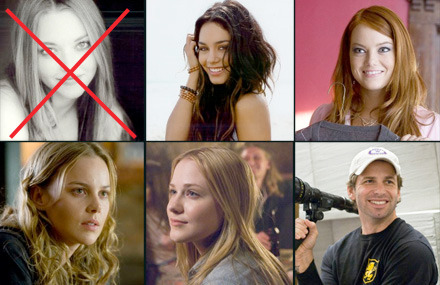 Zack Snyder just lost his leading lady. According to Entertainment Weekly , Amanda Seyfried (Jennifer's Body, Mama Mia) won't headline Snyder's action fantasy film Sucker Punch after all due to "scheduling conflicts".
Snyder has called the film "Alice in Wonderland with machine guns", an R-Rated $100 million budgeted 1950's-period action movie which tells the story of a girl named Baby Doll (the role Seyfried was originally set to play) who is confined to a mental institution by her evil stepfather, who intends to have her lobotomized in five days. While imprisoned, she imagines an alternative reality to hide her from the pain. In this fantasy world, where she needs to steal five objects to help her out before she is deflowered by a vile man.
Last we heard that Vanessa Hudgens (High School Musical), Abbie Cornish (Stop-Loss), Evan Rachel Wood (The Wrestler, Across The Universe), and Emma Stone (Superbad) would play Seyfried's fellow inmates who also travel into the alternate reality. Seyfriend was scheduled to complete work on Chloe this week, but HBO won't release her from her Big Love commitment, which will be in the middle of filming its fourth season when Sucker Punch goes into production this fall.
It will be interesting to see how this project proceeds, especially in a post-Watchmen world where Snyder is no longer hailed as the same post-300 box office god. I wouldn't be surprised if studio executives are now pushing for a bigger name to be cast in the lead role. Warner Bros has already announced a October 8th 2010 release date for Sucker Punch.