Anne Hathaway To Play Judy Garland On Stage And Screen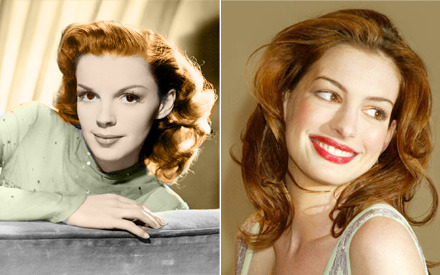 The Weinstein Co has announced that Anne Hathaway will star as Judy Garland in the company's stage and film adaptations of Gerald Clarke's biography Get Happy: The Life of Judy Garland. The book charts Garland's rise to fame and her struggle with alcohol and drugs. The story was first leaked in the Cleveland Leader, where sources claimed that, "Anne dearly wants to do a musical and this could be her chance. The big attraction is that it really will be her singing, not recordings of Judy. She is determined to do it justice." No writer or director have been announced.
The book, which was published in 2001, features the following description:
Judy Garland. The girl with the pigtails, the symbol of innocence in The Wizard of Oz. Judy Garland. The brightest star of the Hollywood musical and an entertainer of almost magical power. Judy Garland. The woman of a half-dozen comebacks, a hundred heartbreaks, and countless thousands of headlines. Yet much of what has previously been written about her is either false or incomplete, and the Garland the world thought it knew was merely a sketch for the astonishing woman Gerald Clarke portrays in Get Happy. Here, more than thirty years after her death, is the real Judy.
To tell her story, Clarke took ten years, traveled thousands of miles across two continents, conducted hundreds of interviews, and dug through mountains of documents, many of which were unavailable to other biographers. In a Tennessee courthouse, he came across a thick packet of papers, unopened for ninety years, that laid out the previously hidden background of Judy's beloved father, Frank Gumm. In California, he found the unpublished memoir of Dorothy Ponedel, Judy's makeup woman and closest confidante, a memoir centered almost entirely on Judy herself. Get Happy is, however, more than the story of one woman, remarkable as she was. It is a saga of a time and a place that now seem as far away, and as clouded in myth and mystery, as Camelot-the golden age of Hollywood. Combining a novelist's skill and a movie director's eye, Clarke re-creates that era with cinematic urgency, bringing to vivid life the unforgettable characters who played leading roles in the unending drama of Judy Garland: Louis B. Mayer, the patriarch of the world's greatest fantasy factory, Metro-Goldwyn-Mayer. Arthur Freed, the slovenly producer who revolutionized the movie musical and gave Judy her best and most enduring parts. Sexy Lana Turner, Judy's friend and idol, who had a habit of trying to snatch away any man Judy expressed interest in.
And what men they were! Oscar Levant, the wit's wit, whose one-liners could all but kill. Artie Shaw, whose sweet and satiny clarinet had a whole nation dancing. Handsome Tyrone Power, who caused millions of hearts to pound every time he looked out from the screen with his understanding eyes. Orson Welles, Hollywood's boy genius and the husband of a movie goddess, Rita Hayworth. Brainy Joe Mankiewicz, who knew everything there was to know about women, but who confessed that he was baffled by Judy. Vincente Minnelli, who showed what wonders Judy could perform in front of a camera and who fathered her first child, Liza-but who also, with an act of shocking betrayal, caused her first suicide attempt. Charming, brawling Sid Luft, who gave her confidence, then took it away. And the smooth and seductive David Begelman, who stole her heart so he could steal her money.
Toward the end of her life, Garland tried to tell her own story, talking into a tape recorder for hours at a time. With access to those recordings-and to her unfinished manuscript, which offers a revelation on almost every page-Clarke is able to tell Judy's story as she herself might have told it. "It's going to be one hell of a great, everlastingly great book, with humor, tears, fun, emotion and love," Judy promised of the autobiography she did not live to complete. But she might just as well have been describing Get Happy. For here at last-told with humor, tears, fun, emotion and love-is the true, unforgettable story of Judy Garland.
Read the full press release below:
ANNE HATHAWAY TO STAR AS JUDY GARLAND IN THE WEINSTEIN COMPANY'S FILM AND STAGE ADAPTATIONS OF "GET HAPPY: THE LIFE OF JUDY GARLAND"NEW YORK, NY (March 23, 2009) – Academy Award® nominee Anne Hathaway is attached to star as iconic performer Judy Garland in the film and stage adaptations of Gerald Clarke's biography "GET HAPPY: THE LIFE OF JUDY GARLAND," for which The Weinstein Company (TWC) has optioned the film and stage rights. The announcement was made today by Harvey Weinstein, co-chairman of TWC.
"GET HAPPY," based on hundreds of interviews plus Garland's own unfinished and unpublished autobiography, portrays the dramatic highs and lows of the cultural icon's life– from her tumultuous early years as a child performer to her tragic last days.
"We are thrilled to have the brilliantly talented Anne Hathaway portray stage and screen legend Judy Garland. I have worked with Anne on projects in the past and have known her for many years. She will be a true class act in this challenging role," said Harvey Weinstein. "Gerald Clarke's biography is a fascinating and comprehensive look at Garland's life and is particularly outstanding because of its exclusive details from her own writings. Her story is incredible subject matter for both theatre and film and we look forward to bringing it to audiences."
"GET HAPPY: THE LIFE OF JUDY GARLAND" was first published by Delta in March 2001.
Renee Witt brought the project to TWC. Kelly Carmichael, and Ben Famiglietti will be overseeing the project on behalf of TWC. Jeff Daitch negotiated the deal on behalf of TWC. TWC optioned the rights to "GET HAPPY" from Anna Cottle and Mary Alice Kier at Cine/Lit Representation. Cottle and Kier represented Clarke in negotiations on behalf of the Helen Brann Agency.