Raiders Of The Lost Ark: The Adaptation Coming To Cinemas?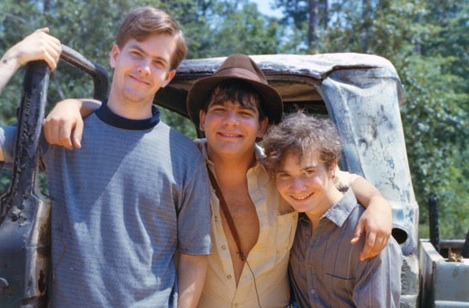 Before Be Kind Rewind, before Son of Rambow, there was... three kids remaking Raiders of the Lost Ark, just for the heck of it. It took them seven summers and they grew up during the long shoot, but they saw the job through and, personally, I prefer their film to the original (though, before you jump down my throat, I can see that the original is superior in most respects).
Some fourteen or so years after it was completed, the 'project' received a rocket of publicity when Harry Knowles screened a VHS copy at his Butt-Numb-A-Thon festival. There have been other screenings, with proceeds typically given to charity I believe, but the film has never received a wide release. Until now...
The BBFC have just cleared the film for – surprise, surprise – a PG rating, as per the original. It was submitted to them by Vue Entertainment, the company that owns and runs the Vue cinema chain across the UK – including my local multiplex, here in Oxford.
This suggests a release for the film in the Vue chain, but not in other rival outfits. There's a small chance this will not be the case – Vue's rival Odeon, for example, have the Odeon Filmworks distribution umbrella and I think they've booked outside of their chain before now. This is definitely for a cinema release, though, not for DVD, as the different media are listed differently on the BBFC site. Not to say, of course, that a DVD release won't be forthcoming.
I'm not sure on who cleared the rights to this, but well done that Super Lawyer.
Daniel Clowes was long ago now tapped to adapt the story of this film's making into a screenplay. No news lately is probably bad news – it's probable that Be Kind Rewind and Son of Rambow, fantastic though they were, have stomped on that one. Come to think of it... Clowes' Death Ray and Master of Space and Time projects also appear to have stalled. Hey! No fair, studios! This isn't just because Art School Confidential wasn't Ghost World cute, is it?
Note the typos (?) on the BBFC listing? Raiders On the Lost Ark might seem to be a deliberate change, ala Rambow, but I see also that Eric Zala, the film's star and director, is listed as Eric Zale. Perhaps the Vue flunky hit the wrong keys when making up the paperwork for submission.
Update:
Zala responds to our report on fancinematoday, and clarifies that the film will be making its UK premiere, but not a theatrical run:
We're having our UK premiere in London – Tuesday, April 28th at Vue's flagship cinema in Leister Square, courtesy of sponsor IGN! However, to clarify, contrary to the supposition in [Slashfilm], this is not for a theatrical run. Rather, it'll be a one-night-only event, loaded with extras – official prop raffle, Indy buffet (think chilled monkey brains!), prop display etc. They're flying Chris & I around the pond for the show and Q&A! Fun times ahead...