Cool Stuff: Mark Brooks "Starbuck"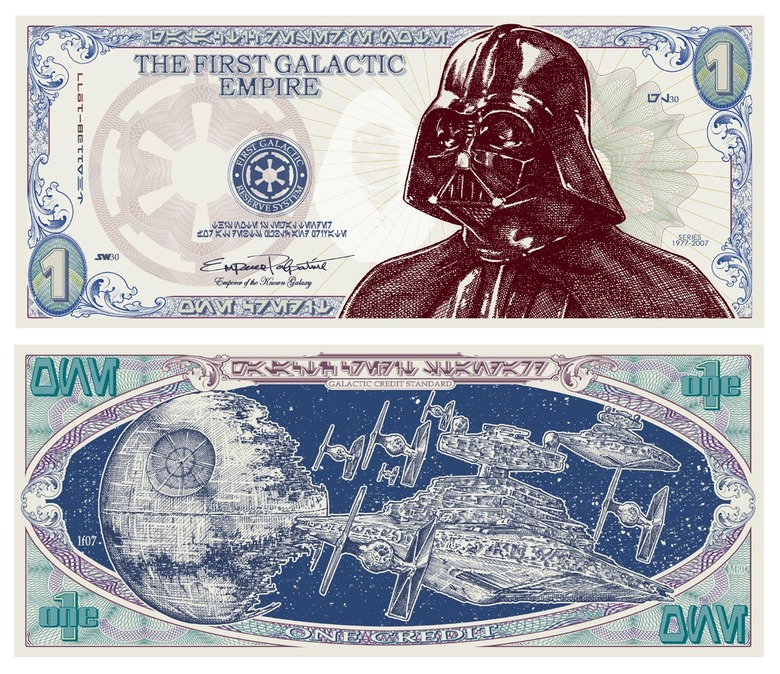 Mark Brooks wondered what currency might look like in a galaxy ruled by the Empire. Created for the Star Wars Fan Days in 2007, the result is the "Starbuck".
As a guest artist and I wanted to do something for the show. There's a lot of artwork out there most as posters, lithographs or prints so I wanted to do something different. While watching The original Star wars I realized that talk of money is thrown around quite a lot but you never actually see it (other than Han flipping the bartender a coin after shooting Greedo). I thought it would be cool to design a piece of Imperial currency as I saw it. I designed it mostly after American money but used some European influences as well." ... "Darth Vader was used on the 1 credit bill for the same reason the most famous American, George Washington, was used on the one dollar bill. It's the first standard credit the Empire uses to measure it's rate to other currency so I used the most recognizable figure from Star Wars. The Death Star is is under construction instead of a completed Death Star to show the growth of the Empire and it's ever expanding reach. It's symbolic more than anything else. Yes, they probably used universal credit cards or something else but I thought this would be cool, nothing more, nothing less."
Cool Stuff is a daily feature of slashfilm.com. Know of any geekarific creations or cool products which should be featured on Cool Stuff? E-Mail us at orfilms@gmail.com.