Rainn Wilson And James Gunn Hawking New Superhero Script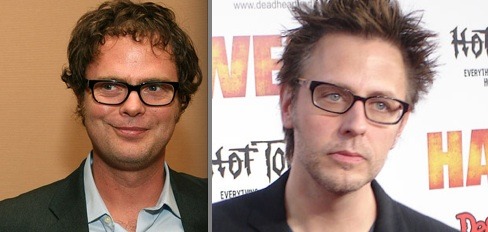 Some little bird tells me that PG Pornocrat and Slither-meister James Gunn is going out to "indie producers" with the script for a new superhero project. The same little bird also reveals that Rainn Wilson is attached to the script, and that the premise is something like an "f'ed up low rent Watchmen". This little bird – as has become increasingly common this last two months or so – is the little Twitter bird. Oh, how he sings and sings and sings.
Last night, Rainn Wilson tweeted some details of the script not once, but twice. I've just grabbed a screen cap for you, and put it below the break with some more details.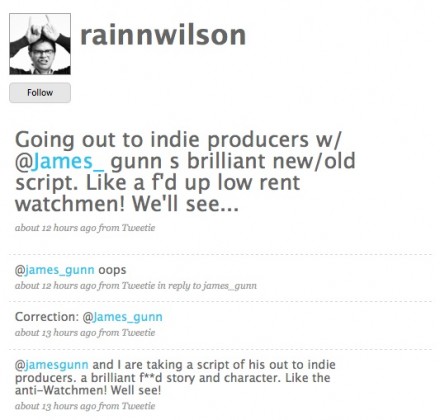 Gunn wrote a spoofy superhero film some years ago. Craig Mazin's The Specials is one of those mid-figure wonders at Rotten Tomatoes, the kind of film that scores in the 35-60% range but develops a solid knot of a cult following.
From Wilson's tweets, it seems like Gunn has had this script for some time – see "old/new". Could it be an old, would-be sequel-come-spin-off to The Specials that Gunn has repurposed? Doesn't seem impossible, does it?
Or could this be a remake? That one I'm not so sure about. Note how Wilson refers to a "f**d story and character" – this might just be him focusing (egotistically?) on the one character he'd play, but it probably suggests more of a solo-superhero enterprise than the ensemble structure of The Specials. I'd like to think Wilson has his ego securely in check.
James Gunn's script work on the Scooby Doo films is a little underrated. I'm not making any great claims for a deep value to what he wrote there, but the robotic Rowan and souped-up Scrappy Doo climax is so utterly bizarre it shouldn't go without some kind of credit. And there are definitely jokes in there too – not exactly sidesplitters, but they are jokes.
But overrated, I'd say, are his other works. Somewhere in between the scorn piled on Scooby and the cult love heaped onto Gunn's less kiddy-friendly fare is the fair estimation. He can write okay, and he's obviously somebody who loves his work, but I wouldn't want to get carried away and credit him with anything too much more than a good sense of humor and a well developed work ethic.
While I rooted through to Wilson via my Twitter feed from Gunn, I did also see this story at CHUD.