Give 'Em Hell Malone Promo Trailer From The Director Of Highlander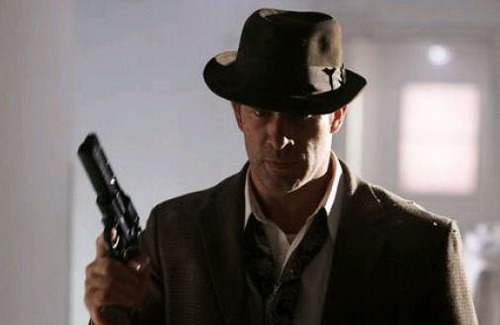 Russel Mulcahy (Highlander, Resident Evil: Extinction) may be one of the last directors I would ever compare to John Woo, but I can't help but think of Woo when viewing this promo trailer for his upcoming film Give 'em Hell Malone, starring Thomas Jane. Set to the tune of "Bad to the Bone" (yes it's been a while for me too), the promo shows us a well choreographed shootout with Jayne, his big-ass gun, and baddies galore.
It starts off with a long take that's vintage Woo – there's copious amounts of blood, seemingly infinite ammo, and balletic camera movements – and goes on to show Jane's character as a force to be reckoned with. There are glimpses of other 70's style action as well, but for me the shootout was the action highlight, and it was certainly enough to get me interested in this film.
It also stars Ving Rhames, Elsa Pataky, and Chris Yen (Donnie Yen's little sister, who is currently trying to build up her action film career). Plot-wise, it's nothing special: Jane stars as a detective who's trying to protect something from thugs, yadda yadda. My biggest concern is with Mulcahy as the director, who hasn't made a good film since Highlander (which, by the way, has not aged well at all). He always seemed visually talented, but somehow just kept doing shit projects. Perhaps this film could be his final turnaround?
With a release date currently set for April 1, 2009, and an independent theatrical distributor, I don't suspect most of us will see this film until it hits DVD. At that point we'll see if it lives up to its potential as a cult classic, or if it's just another Mulcahy suck fest.
Discuss: Does this film look like a cult hit in the making to you? Was Highlander even a good movie?
Source: Trailer Addict