The Curious Case Of Benjamin Button On Criterion?!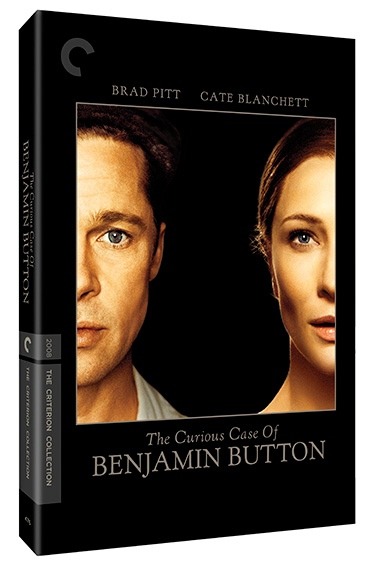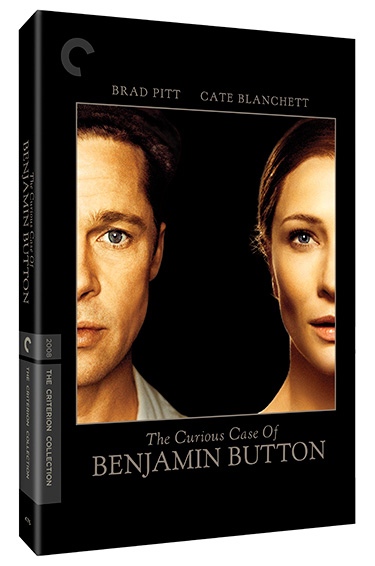 You know a filmmaker has a lot of pull when he can force a big movie studio to allow him to release his film on DVD/Blu-ray through The Criterion Collection — the distributor and label of choice of film snobs around the world. Paramount Home Entertainment has announced that David Fincher's The Curious Case of Benjamin Button will be released in a two disc Criterion edition dvd and blu-ray on May 5th 2009. Full press release after the jump.
BRAD PITT STARS IN DIRECTOR DAVID FINCHER'S SWEEPING EPIC NAMED BY OVER 150 CRITICS AS ONE OF THE BEST FILMS OF THE YEAR
THE CURIOUS CASE OF BENJAMIN BUTTON
One of the Year's Most Critically-Acclaimed Films Arrives May 5, 2009 On Two-Disc Special Edition DVD and Two-Disc Blu-ray Brimming with Over Three Hours of Fascinating Special Features
HOLLYWOOD, Calif. – A thrilling adventure and captivating story of one man's unusual and enchanted life, director David Fincher's Academy Award®-winning film THE CURIOUS CASE OF BENJAMIN BUTTON debuts as a two-disc DVD and two-disc Blu-ray on May 5, 2009 from Paramount Home Entertainment. Called "a monumental achievement" that "must be experienced" (Rex Reed, New York Observer), the film stars Academy Award nominee Brad Pitt who "does his best work ever" (Lou Lumenick, New York Post) and Academy Award winner Cate Blanchett who "is simply dazzling" (Joe Morgenstern, Wall Street Journal) in an exhilarating adventure that takes viewers on a breathtaking journey filled with romance and redemption. Nominated for 13 Academy Awards and winner for Best Visual Effects, Art Direction and Makeup, THE CURIOUS CASE OF BENJAMIN BUTTON also stars Academy Award nominee Taraji P. Henson (Hustle & Flow), Academy Award winner Tilda Swinton (Michael Clayton) and Julia Ormond (Legends of the Fall)) in a grand tale of a not-so-ordinary man and the people and places he discovers along the way, the loves he finds, the joys and romance of life and what lasts beyond time.
THE CURIOUS CASE OF BENJAMIN BUTTON two-disc DVD and two-disc Blu-ray boast over three hours of enthralling special features including interviews with stars Brad Pitt and Cate Blanchett with behind-the-scenes footage of their astonishing on-screen transformations, an in-depth documentary revealing the unusual journey of the film itself including the secrets of its award-winning visual effects and an exploration of the groundbreaking computer wizardry that brought the magical world of Benjamin Button to life.
THE CURIOUS CASE OF BENJAMIN BUTTON DVD & Blu-ray
THE CURIOUS CASE OF BENJAMIN BUTTON two-disc and single-disc DVD are presented in widescreen enhanced for 16:9 TVs with Dolby Digital English 5.1 Surround, French 5.1 Surround and Spanish 5.1 Surround and English, French and Spanish subtitles. The two-disc Blu-ray is presented in 1080p high definition with English 5.1 DTS-HD Master Audio™, French 5.1 Dolby Digital and Spanish 5.1 Dolby Digital and English, English SDH, French and Spanish subtitles. The two-disc Criterion Edition DVD and two-disc Criterion Blu-ray include the following special features:
o The Curious Birth of Benjamin Button—four-part documentary:
o Academy Award-nominated director David Fincher introduces the surprising beginnings of what would become an epic masterpiece including the casting of Brad Pitt and Cate Blanchett, the decision to change the location of the story to New Orleans and more.
o Follow the production from day one including the challenges of aging Brad Pitt and Cate Blanchett, designing over five thousand costumes and creating the animatronic baby.
o Explore the incredible visual effects techniques created specifically for the film that allowed Brad Pitt to play the title character at virtually every age. Also includes a visit to the scoring stage with composer Alexandre Desplat.
o Walk the red carpet at the film's premiere in New Orleans, with final thoughts from cast and crew.
o Audio Commentary by director David Fincher
There is also a single-disc DVD presentation that includes the feature film.
About Paramount Home Entertainment
Paramount Home Entertainment (PHE) is part of Paramount Pictures Corporation (PPC), a global producer and distributor of filmed entertainment. PPC is a unit of Viacom (NYSE: VIA, VIA.B), a leading content company with prominent and respected film, television and digital entertainment brands. PHE is responsible for the sales, marketing and distribution of home entertainment products on behalf of various parties including: Paramount Pictures, Paramount Vantage, Paramount Classics, Paramount Famous Productions, Nickelodeon, MTV, Comedy Central, CBS and PBS and for providing home entertainment fulfillment services for DreamWorks Animation Home Entertainment.