David Gordon Green And Danny McBride's Your Highness Moving Forward With James Franco!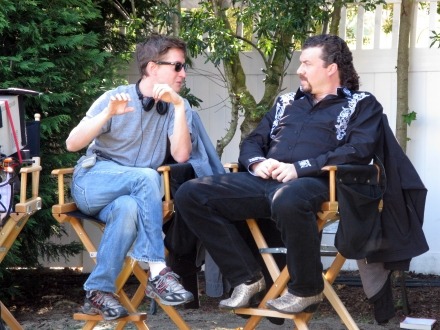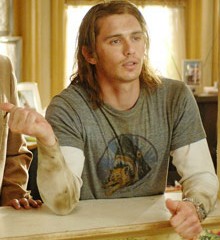 While David Gordon Green and Danny McBride's trippy fantasy movie, Your Highness, has been sizzling on my radar for many months now, the project now sounds like it's happening sooner than later. Hell yes. When I spoke to these dudes last year, they were hopeful, but Green also had a lot of plates spinning (Suspiria remake, Freaks of the Heartland). I also got the impression that if their HBO series, Eastbound & Down, was successful and claimed its place in pop culture—and boy, has it—that it might serve to launch such a high-concept R-rated flick with McBride at the lead. One thing more people are starting to admire is that these guys make sure to do things their way, no "one for them" studio fluffing.
According to Knowles at AICN, McBride confirms that the film has been greenlit by Universal, will shoot soon in Ireland, and the creature effects will be handled by Spectral Motion (Hellboy 1 & 2). In ode to its myriad inspirations, the film won't feature heavy CGI but more traditional, weirder effects. Moreover, McBride let out that James Franco will co-star, in a Pineapple Express trifecta reunion of sorts. Many of you might be like, "So WTH is Your Highness?" Here are some quotes from my interviews that didn't see light until today...
/Film:  Can you go into Your Highness? Judging from the title and from what you guys previously did on Pineapple Express, is this a true-blue stoner genre film?
Green: It's not really a weed movie. [Danny's character] smokes shit [weed] in it, yeah, but it's whatever they had in olden times. This is an R-rated adventure, it's ridiculous, played with lo-tech effects. I looked at Army of Darkness recently for it, but it's not campy. Krull has Juliard actors, it's really '80s. At the same time, Danny ain't Orlando Bloom.
/Film:  I just watched Yor: The Hunter From the Future for the first time recently, that movie is fucking amazing. So, basically it's one of those sword-and-sorcery flicks that looks like it was shot through a crystal ball?
McBride: Exactly. Hopefully David and I can get started on Your Highness at the beginning of next year. We want to keep the budget low enough to still make it retarded and make it rated R. As we were writing it, we realized that it was really changing into a real fantasy film...and if you're stoned, you probably will enjoy seeing the dragons. We still want to make it like Krull and those old '80s fantasy movies.
/Film: So, Danny, does your character roll solo in this or will it be more like that video game Golden Axe...
McBride: Yeah, there is this mild wrecking crew that rolls with my character. I can't really say much more. [laughs]
So, gut instinct might tell you that Franco would be apart of this "mild wrecking crew." Danny's character is said to be a rotten apple of a prince who has to redeem himself and save his kingdom. If you have seen The Foot Fist Way or read interviews with these guys, analogies using the word "kingdom" in reference to soft masculinity are plentiful. CHUD has a quote from McBride explaining that his prince's weapon of choice is a hula hoop, a fucking "Hoop of Doom." And another where he describes the movie as Stanley Kubrick's "Barry Lyndon meets Krull." One aspect that might not be apparent for those who haven't seen Krull or Yor is that there are ridiculous galactic sci-fi elements in these '80s films. Geek nirvana. More info on Your Highness as it we get it.
image: Fred Norris / HBO