Mission: Impossible 4 Being Prepped?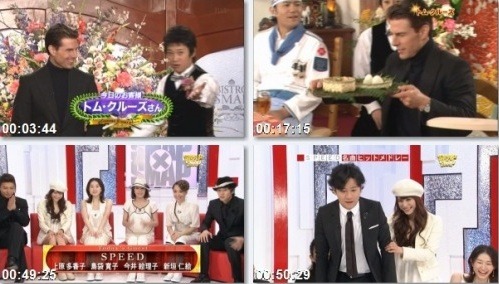 Aint It Cool News have run a story from one of their readers, reporting that Tom Cruise has appeared on Japanese television and revealed plans for the 4th Mission: Impossible film. See above, images from said show.
As I learned from 'supastring', the AICN scooper, Cruise was a guest on SMAPxSMAP. According to Wikipedia, the show is hosted by the Idol group SMAP – presumably an aging Idol group as the show has apparently been on air for around 13 years (take that Take That). I'd guess that Cruise would have appeared in the first part of the show, Bistro Smap, in which a celebrity guest is served food and interviewed. So, basically, a boy band gave Cruise a snack and he chatted a while, spilled some beans on his big spy franchise.
The report says that Cruise claimed to be "working on the story right now" and has been "thinking about how to stage a big action sequence in downtown Tokyo". Oh, haven't we all.
The curious thing with the Mission: Impossible films is that each of them has quite clearly reflected the personality of its director, much more than is typical with franchise pictures. I particularly adore Brian De Palma's original installment, even though rather a lot of the plot is more tangled up than it needed to be. There's a good ten minute run – the heist of the NOC list from Langley – that I regularly use in class because, frankly, it's just about perfect. Alongside the ballet sequence in The Red Shoes this is probably my other favorite consecutive sequence of film making choices in all of cinema and I've probably now seen it over 300 times, with one student, friend, tub of ice-cream or another.
I rather like John Woo's second installment too, for what it is, but can shrug off the JJ Abrams threequel. That's even though seeing Phillip Seymour Hoffman imitating the body language of Tom Cruise was wonderful. The game now, I suppose, is to start guessing who Cruise will tap to direct part four. I have my favourite nominees – McG, Florent Emilio Siri, Martin Campbell, Alfonso Cuaron, Pierre Morel and Ken Loach, to name just a few – but who are yours?