LOL: Mickey Rourke "Researches" Iron Man 2 Role In Russian Prison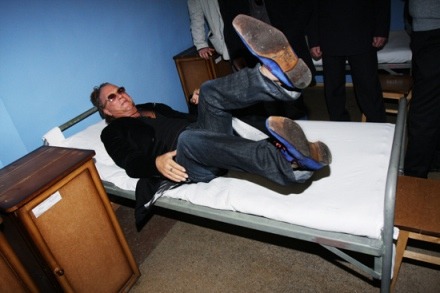 Even though Marvel has yet to officially announce the deal, we know that Mickey Rourke has signed on to star as the Russian villain in Iron Man 2 (possibly Crimson Dynamo?). While in Russia this week, Rourke did some "research" for his role in a Russian prison.
One might assume that this means that Rourke's Iron Man 2 character is or was a resident of such a facility. But if you made that leap you might also have to assume that Rourke's character also plays ping pong and at one point is put in some kind of medieval torture device. BestWeekEver has some more photos from Rourke's trip.