Movie Review And Interview: Cary Fukunaga's Sin Nombre – An Astonishing Directorial Debut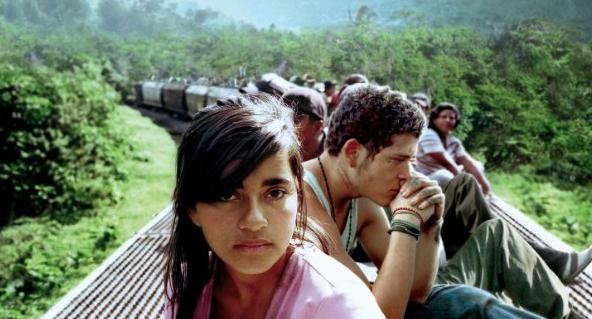 If Sin Nombre was Cary Joji Fukunaga's 7th or 8th film, it would be evidence of a maturing and brilliant director with a firm grasp on his craft, hitting his stride during the course of an already-flourishing career. That Sin Nombre is Fukunaga's directorial and writing debut is nothing short of astonishing. Every element of this film shines: the gritty performances, the gorgeous cinematography, and the minimal, yet effective true-to-life script. A stunning accomplishment to behold, Sin Nombre is one of my favorite films of 2009 so far.
You can hear my interview with Cary Fukunaga by downloading it (right-click and "Save As") or playing it in your browser:
You can also subscribe to the /Filmcast using the following links:
The movie tells two parallel stories that eventually become intertwined. In the first, we find a young man named Casper (Edgar Flores), who is chafing against the responsibilities of gang life. Although he identifies as part of the Mara Salvatrucha gang, he isn't as committed as some of his colleagues and constantly tries to keep his gang life separate from his personal life. At the beginning of the film, Casper recruits a young boy, Smiley (Kristian Ferrer), to the gang, and through the latter, we witness some of the horrors of gang initiation and socialization. As Smiley is given more responsibilities, he and Casper are eventually given tasks that will brutally test each of them in different ways. The second story involves Sayra (Paulina Gaitan), a teenager from Honduras whose absentee father suddenly re-enters her life when he's deported from the United States. Determined to return to his family in New Jersey at all costs, Sayra's father brings Sayra and her brother along with him on the punishing and treacherous three-week journey through Mexico to the U.S. southern border.
A great deal of Fukunaga's work is encapsulated in how authentic the movie feels. Much of the film takes place on top of a train car, as Sayra's family hitches a ride with hundreds of other travelers in the journey north. Fukunaga himself actually took the same journey, and these segments of the film are alive with a level of realism and vitality that come from an intimate knowledge of the source material. Part of the director's motivation for making this film came from wanting to tell the story of how far immigrants are willing to go in their search for a better life. Insofar as we feel wrapped up in the lives of the disparate people on top of that train car, hoping for their success but quite reasonably expecting the worst, Fukunaga succeeds.
Sin Nombre deals with complex themes, including the cyclicality of gang violence and (as the film's title implies) the elusive concept of identity. It is to Fukunaga's eternal credit that he somehow manages to juggle each of these themes and characters while still making them each resonate with the audience. The movie's pacing allows it to breathe, taking it slowly for intimate character moments but ramping up to create nail-biting tension during the action scenes.
The performances in the film are remarkable, coming mostly from unknowns and first-timers; in particular, Kristian Ferrer as the young Smiley manages to thoroughly impress with his transformation from doe-eyed innocent child to cold, obedient gang member. A tattooed Tenoch Huerta Mejia is absolutely terrifying as the Mara's amoral gang leader, Lil' Mago. But it's the relationship between Sayra and Casper that hold the film together. Flores' performance as Casper is admirable and loaded with pathos, but Gaitan is amazing as Sayra, evoking a quiet tenderness and compassion that essentially holds the final act of the film together.
Sin Nombre won the Cinematography Award and the Directing Award at the 2009 Sundance Film Festival, and both awards are well-deserved. Adriano Goldman's cinematography masterfully portrays the grittiness of Mexico's urban settings as well as the peace and beauty of its pastoral ones. And if Cary Fukunaga keeps making films, then I predict that 10 years from now, he has the potential to be as critically successful as Darren Aronofsky and/or as commercially successful as Bryan Singer, both of whom also got their big breaks at Sundance. For now, all we can do is appreciate this audacious gem of a debut, and dream of the great works that will hopefully emerge from the hands of this talented young filmmaker.
/Film Rating: 9 out of 10
Sin Nombre is currently playing in select cities, including New York, LA, Boston, San Francisco, Chiago, and San Diego. It will expand further in the weeks to come. You can reach David Chen at davechensemail(AT)gmail(DOT)com. You can also follow him on Twitter or Tumblr.