Battlestar Galactica Invades The United Nations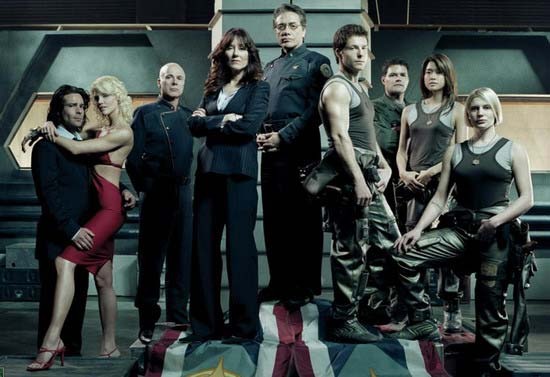 Battlestar Galactica is so frakking good, it's being discussed at the U.N. Sort of. A Galactica retrospective and discussion panel will be held at the United Nations in New York on March 17. Executive producers Ronald D. Moore and David Eick will be attending, along with stars Edward James Olmos and Mary McDonnell. They'll be discussing some of the various themes of the show including "human rights, children and armed conflict, terrorism, human rights and reconciliation and dialogue among civilizations and faith", and will be joined by U.N. representatives Radhika Coomaraswamy, Craig Mokhiber, and Robert Orr. Whoopi Goldberg, one of the shows more vocal celebrity fans, will be moderating the panel.
Obviously, the timing of this event is not just a coincidence; it's also great publicity for the upcoming series finale next week. But as a BSG fan, I can't help but see this event as validation for the show's ambitious attempts to tackle weighty themes. In its four seasons (and DVD films), Battlestar Galactica has managed to squeeze in many modern-day political and sociological topics.
While it hasn't always been totally effective, I applaud the show for at least attempting to be more than a typcial sci-fi action show. It may be too early to say this yet, but I honestly believe Battlestar Galactica will go down in history as one of the most significant works of art to come out of our post-9/11 society.
The U.N. event is invite ony, but Sci-Fi reports that they will release a transcript and recording of the invite at some point in the future. I just hope they get a chance to shout "So say we all!" in the U.N.
Source: Chicago Tribune