Help Save Assassination Of A High School President From Going Direct To DVD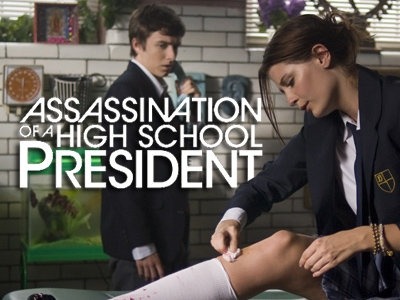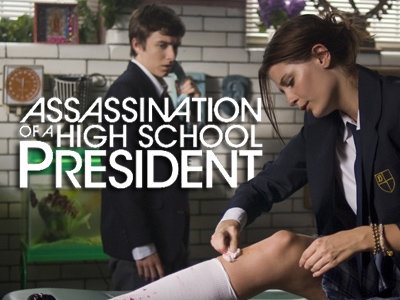 At the 2008 Sundance Film Festival, Yari Film Group premiered Brett Simon's Assassination of a High School President, a film noir mystery set inside the world of a John Hughes-style High School comedy. It quickly emerged as one of the underdogs on the schedule to become one of the most buzzed about films at the festival. Unfortunately, Yari Film Group was forced into involuntary bankruptcy, and the film has been sitting on the shelf ever since. This has presented a very serious problem for theatrical distribution, and because of the legalities of bankruptcy court, the timing of this economic downturn and a whole slew of other worst-case-scenarios, Assassination is on the verge of losing its opportunity to have the theatrical run it deserves.
There might still be hope. Studios are still deciding whether or not they want to take a financial risk by buying the theatrical rights, spending cash on P&A and distributing the movie theatrically. Sony has the home video distribution rights, and from a business standpoint, they think it makes more sense to send the film direct to dvd. But I, like many others, think that Assassination of a High School President deserves to be seen on the big screen. What can you do? Leave your thoughts in the comments below, become a fan of the film on Facebook, and spread the word. Distributors like Sony Pictures Classics, Samuel Goldwyn, Fox Searchlight, etc need to see that there's an audience out there waiting for an opportunity to see this film.
Why should you care about this movie? Here is what some other people have said about the film:
Many people have drawn comparisons between this film and Rian Johnson's indie masterpiece Brick, and it would be hard not to. As I wrote in my original Sundance review "Assassination is not a copy of Brick, in fact, it was written before Brick. Imagine if John Hughes had made Chinatown set in a High School. So where Brick was a hardcore film noir story set in the world of high school students, Assassination is a high school movie with a noir mystery storyline." I always thought of it as a more accessible, more marketable film...