Box Office Tracking: Witch Mountain Could "Rock" Watchmen For Surprising Weekend Win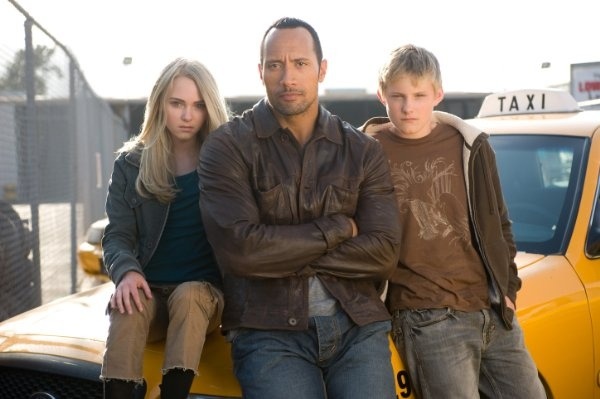 One of the coolest ways to use the social networking platform Twitter is to find out what people are thinking, saying and Twittering about in real time. Here's a small sampling of Tweets from the opening weekend of Watchmen (Warner Bros).
Watchmen = Epic fail!If you haven't seen The Watchmen yet, I'd urge you to read the graphic novel first. Well, actually, I'd urge you to JUST read the Graphic Novel.Watchmen.undecided,confused as superhero film with very little superhero action.Convoluted story,but overall watchable. My opinion onlyI was bored while watching WatchmenJust got out of Watchmen.... Ouch, would spend the 9 quid on – can't even find the humour, brain switched off 1 hour into the 3- BIG YAWNWatchmen, three hours of my life I will never ever get back.Watchmen was a horrible movie! We went today. My bf goes with me to chick flicks,so I go to"other". THIS ONE WAS bbaaad! YukGoing to watch the watchmen so I can rip it to shreds laterWatchmen – way too much blood, way too many slaughtered people!
For everyone who says, "What's the point of Twitter," here's a real-life application. I was able to watch the word-of-mouth take shape for Zack Snyder's film adaptation of the classic Alan Moore graphic novel. When projecting box office, I use a multiple to arrive at a weekend estimate. After a $24.5M Friday, it would be fair to expect about a 2.5 multiple for about $61.25M ($24.5 X 2.5 = $61.25M). Instead, that strong Friday resulted in a much softer $55.2M, operating on a 2.25 multiple.
That means that in this new age of Twitter and Facebook and text messaging, word-of-mouth on a movie spreads like wildfire. If a film is bad or challenging or has a bad ending, potential moviegoers are going to know it before opening weekend is over. In fact, a negative reaction from Friday's ticket buyers can mean fewer admissions on Saturday and Sunday.
As I have written before, I like this movie. Given the densely-plotted source material, Snyder has pulled off something amazing. This is the thinking man's superhero movie, and the film cannot be enjoyed, or even tolerated, if you check your mind at the theater door. Watchmen is about ideas. For me, it is a $120M art film that deconstructs the very idea of what a hero is. The film is cold, intellectual, uncompromising and not particularly hopeful. The Dark Knight, ultimately, is about how when everyday citizens are confronted by impossible choices, they do the right thing. In the nihilistic world of Watchmen, everything is gray, uncertain and relative. Anybody who showed up last weekend for a bucket of popcorn and some cheap CGI thrills probably left very disappointed.
Fortunately for Warner Bros (domestic distribution rights), Paramount (foreign distribution rights) and Fox (a profit participant thanks to litigation), the hardcore fans of the graphic novel seem to like the movie. Here are some Tweets from fanboys last Friday and Saturday.
Seeing watchmen again for the second time.
Watchmen, pretty damn good, really enjoyed it. Now to finish reading the graphic novel to get the details and depth of everything
experiencing the post-Watchmen glow.
I am dying to see Watchmen again, soooooooo good!
The big question in Hollywood is, "How much will Watchmen fall this weekend?" When the opening weekend 3-day is this big, even wildly successful movies like Iron Man and The Dark Knight tumble about 50%.
SAMPLING OF SECOND WEEKEND DROPS FOR 2008 BLOCKBUSTERS
Iron Man – down 48%
Hancock – down 49%
The Dark Knight – down 52%
Jumper – down 54%
The Mummy: Tomb of the Dragon Emperor – down 59%
Quantum of Solace – down 60%
The Incredible Hulk – down 60%
Wanted – down 61%
The Day the Earth Stood Still – down 68%
Cloverfield – down 68%
Hellboy II: The Golden Army – down 71%
My best guess is that the encore for Dr. Manhattan and pals will be in the $20M-$23M range, and, if I you pin me down to an exact prediction, I'll go with $22.1M, which would mark a 60% decline. A 3-day take of less than $20M would be a huge disappointment.
If you happened to see this past weekend's Saturday Night Live, you saw a tour de force from Dwayne "The Rock" Johnson. His opening monologue, which turned into a Fosse-style musical number, was a piece of hilarious self-mockery, and he really got the President's vocal cadence down for an Incredible Hulk spoof called The Rock Obama. Johnson has gone from pro wrestling superstar to versatile entertainer, and he's also a full-fledged movie star.
In the fall of 2007, The Rock flexed his box office muscle with Disney's The Game Plan. The family film featuring Johnson as a football star and playboy-turned-Dad, and, after a $23M opening frame, the movie went on to $90M domestic.
Now Disney is re-booting its popular Witch Mountain movies from the 1970's – Escape to Witch Mountain in 1975 and Return from Witch Mountain in 1978 – with The Rock, Carla Gugino (Watchmen) and AnnaSophia Robb (Bridge To Terabithia). Tracking with the family crowd, including Moms 25 Plus, is very strong, and I am predicting $22.75M, possibly enough to score a surprise win over Watchmen.
Wes Craven's R-rated remake of his 1972 classic The Last House On the Left (Universal) looks a bit stronger-than-expected. Despite no real star power, there is room in the marketplace for this kid of gruesome scarefest, and I think the movie could hit $18.2M by Monday morning, good for third place.
The other new wide release is Miss March (Fox Searchlight), a crass R-rated comedy with no star power. To me, the tracking looks very soft, and it looks like it will miss the top 5 altogether with just over $5M.
FINAL PREDICTED BOX OFFICE FOR MARCH 13-15
1. NEW – Race To Witch Mountain (Disney) – $22.75M
2. Watchmen (Warner Bros) – $22.1M
3. NEW – The Last House on the Left (Universal) – $18.2M
4. Tyler Perry's Madea Goes to Jail (Lionsgate) – $5.7M
5. Taken (Fox) – $5.23M
6. NEW – Miss March (Fox Searchlight) – $5.13M
7. Slumdog Millionaire (Fox Searchlight) – $5.07M
8. Paul Blart: Mall Cop (Sony) – $2.59M
9. He's Just Not That Into You (Warner Bros) – $2.08M
10. Coraline (Focus) – $2.07M