Crazy Eddie: The Movie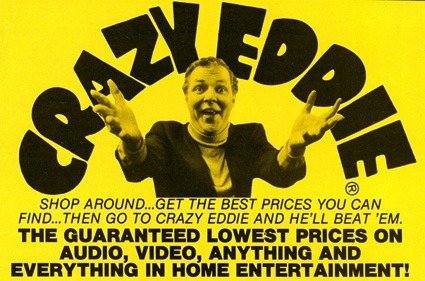 I'm probably aging myself a bit by saying this, but as a kid I use to love these wacky television commercials for a electronic store chain called Crazy Eddie. The commercials featured this frenetic insane screaming sweating guy who would end every commercial with the slogan "Crazy Eddie, his prices are IN-SAAAAAAAANNNE!!!" The whole thing was so very "1980's". I was amused at the television ads as a kid, but never got a chance to visit any of Crazy Eddie's 43 northeastern stores. The chain eventually went out of business due to a series of government investigations which ended with Eddie Antar running away to Israel, but later serving eight years in U.S. prison for fraud. Crazy Eddie was probably best known for his commercials, but the crazy guy in his commercials was not actually Eddie.
Well guess what? In a day and age where Hollywood is greenlighting a new movie project based on a board game property every week, they are now moving on to television commercials. Okay, I'm over exaggerating a little bit. Danny DeVito is set to direct a movie based on the famous electronics king who was caught skimming money and falsifying inventory to inflate stock value, and 21 scribe Peter Steinfeld is writing the script. I've included a video which contains a bunch of vintage Crazy Eddie television commercials after the jump.
source: Variety