TV Buzz: Season 2 Of Breaking Bad Kicks Off Tonight! Kenny Powers Joins Twitter, Crashes BBQ...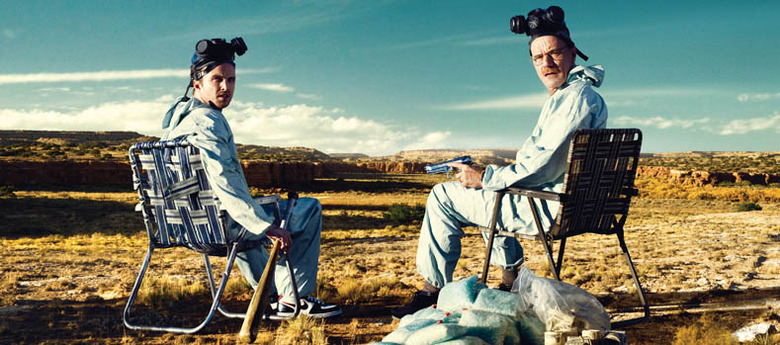 Mad Men certainly deserves all of the praise thus far received in its first two seasons on AMC, but I always thought it a tad disconcerting that AMC's Breaking Bad has purred in the background like colorful dry ice. Not only is the series as entertaining, well-produced, and agreeably shrewd with its layered characters, but creator Vince Gilligan has given a daring, nutty jolt to themes long mastered by others shows i.e. the drug war (The Wire) and the rapport between money and mortality (The Sopranos).
At last year's Emmys, when lead actor Bryan Cranston beat out Dexter's Michael C. Hall and Mad Men's Jon Hamm, the underdog bite in the W mirrored that of Walter White's, the cancer-stricken, primo meth-cooking family man he plays. Season Two begins tonight at 10 p.m. EST. and picks up immediately where the first left off. If you're a fan, it's been a friggin' longtime coming, eh? Almost a year to the day. If you haven't been following, recommended. This is easily one of the best shows going...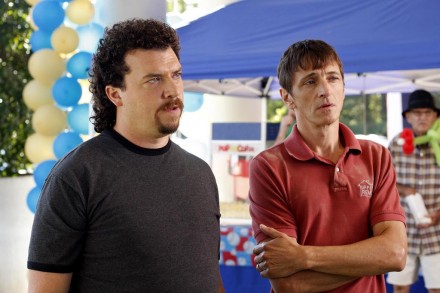 ...and so is this one. Kenny Powers's laundry list of vice is the stuff role models are made of, but the beloved aggro-male hasn't yet messed with crystal meth on HBO's Eastbound and Down. The fourth episode (or "Chapter") in the comedy series that has done for the F-word what Eddie Murphy did for it in the '80s—muchos gracias Danny McBride, Jody Hill, and Ben Best—also airs this evening, at 10:30 p.m. Here's the official spoiler-free gist...
Kenny looks to rekindle an old flame at a barbecue hosted by April (Katy Mixon) and Cutler (Andrew Daly); Stevie cuts a "greatest hits" DVD for his favorite ballplayer in hopes of getting Kenny a big-league tryout.
When David Gordon Green was directing this episode, I was on set trying not to laugh at Kenny's use of "cum dumpster." Don't recall if that line made it in or not. Tonight's also marks the debut episode for co-writer Shawn Harwell. Oh yeah, and in proving yet again why he's nicknamed "Mister Technology," late last night Kenny Powers joined Twitter or "Shwitter," where his show has proven to be quite the sensation. Here's one of his tweets...
"STEVIE, what fuck the FUCK, I said a LARGE potato salad you fuck ass bitch"
He's currently answering fans questions live, so go take yr best shot at America's bulletproof tiger/fucking champion. Let us know how it goes in the comments.