Pixar's Partly Cloudy Details Revealed? Blu-Ray Monsters Inc Trailer And Bonus Details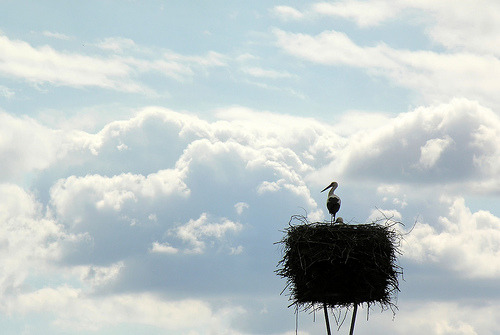 We may receive a commission on purchases made from links.
In February, we told you about Pixar's next short film, Partly Cloudy, the directorial debut of storyboard artist and animator Peter Sohn (he also provided the voice of Emile in Ratatouille). And by "told you about", I mean, we told you that it was being developed, and nothing more — be cause we knew nothing more than the title and director. But now The Pixar Blog have gotten their hands on possible plot details.
Apparently the story will elaborate on the age-old story of babies being delivered to their mothers by storks. But in the short, which will play in front of Pete Docter's Up, clouds are baby factories, and each cloud has a stork assigned to deliver the babies produced. Partly Cloudy tells the story of a cloud named Gus who is assigned to create the 'tougher babies' like alligators and porcupines.  But Gus's stork Peck would rather be delivering softer babies like kittens and humans. Apparently there is a photo of Gus and Peck in Twenty-Three, Disney's new stylish quarterly magazine. If we find it anywhere, we'll be sure to pass it along. The story sounds like another great premise from the Emmeryville-based animation studio.
/Film's Brendon Connelly adds: "that a tie-in picture book is being released in November, probably to coincide with the launch of the Up DVD. Amazon have listed the book with – as yet – no illustration, but a rather winning description.
Welcome to the world of clouds, where every cloud creates cute, cuddly babies that get delivered to their families by storks.  Every cloud, that is, but Gus.  Gus is the littlest cloud and only knows how to make snapping alligators and spiky porcupines.  Ouch!  For Peck, Gus's stork and best friend, this means the job can be quite painful.  But as Peck and Gus soon discover, sometimes all you need is a little and you can weather anything!"
The book has been illustrated by Jean-Paul Orpinas, who previously worked on some wonderful Wall-E, Cars and Bolt tie-ins, amongst others.
—-
Also, Monsters Inc is coming to Blu-ray on May 19th, and Disney has released a promotional trailer to promote the release.
Disney is great about including a bunch of extra exclusive content with their Blu-ray releases, and the Monsters, Inc release is no different:
Filmmakers Roundtable: Pete Docter (director), Lee Unkrich (co-director), Darla Anderson (producer), and Bob Peterson (story supervisor) reflect on the creation of the film, and share their most memorable anecdotes.
Monsters, Inc. Ride and Go Seek Building Monstropolis in Tokyo: ?A sneak peak of the newest Monsters attraction in Tokyo Disneyland with interviews of the artists and engineers behind the ride.
Roz's 100 Door Challenge (Interactive Game): ?Think you have what it takes to be a Monster, Inc. employee? Roz will be the judge of that with her 100 Door Challenge. Deal with whatever is behind each new door. It could be a puzzle, a trivia question, a mini game... it could be crazy! Do your best. Your future employment at Monsters, Inc. hangs in the balance.
And all the stupid BD-Live Features like ?Movie Chat, ?Movie Mail, ?Movie Challenge, and ?Movie Rewards. Does anyone actually use any of these things?
Trailer source: stitchkingdom (Thanks to /Film readers Brad and Brandon for the tip)