Jim Jarmusch's The Limits Of Control Movie Trailer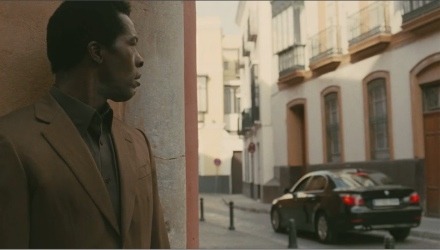 When iconic New York director Jim Jarmusch (Dead Man, Down By Law) and cinematographer Christopher Doyle (Ashes of Time, Paranoid Park) collaborate to immaculately fetishize guns, Spain, babes, and concentration, take a second to enjoy what's in store. The first trailer for The Limits of Control has arrived, and is available after the jump.
While the plot is agreebly locked in storage, the crisp visuals and a cast that includes JJ-fave Bill Murray, Tilda Swinton, John Hurt, Gael Garcia Bernal and Isaach De Bankolé in the lead (the French icecream man in Ghost Dog) are hot enough to singe so many art school pencil 'staches. Jarmusch is a big fan of Lee Marvin, and I get a Point Blank vibe from the film's logline (below) and the trailer's upscale attire-meets-gritty minimalistic criminalism.
The Limits of Control is the story of a mysterious loner (Isaach De Bankolé), a stranger, whose activities remain meticulously outside the law. He is in the process of completing a job, yet he trusts no one, and his objectives are not initially divulged
Also, earlier today I posted the trailer for Explicit Ills, an indie that Jarmusch is producing and backing.
The Limits of Control from Focus Features opens in limited release on May 22.