The Boat That Rocked Three Minute Clip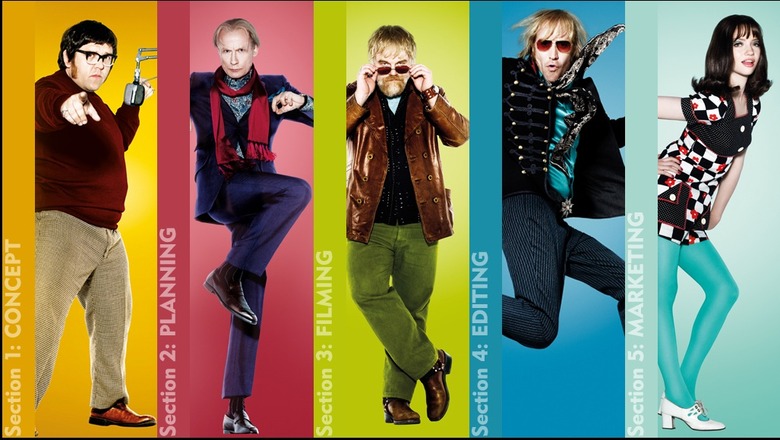 In my day job as a teacher of film (and, I must admit, other media – when I have to) I'm privy to some nice mail outs from the British Film Education council. Today brought me a DVD Rom carrying a series of classroom exercises built around Richard Curtis' upcoming The Boat That Rocked.
Amongst the fully entertaining and interesting video material contained upon the shiny disc, I found a nice and juicy three minute clip from the film. How could I resist sharing it via /Film? You'll be able to find it below the break.
This scene obviously marks a turning point in the story – though an early turning point, when the set up is still taking place. I wouldn't consider Act One business like this a spoiler in any way, but you might. Consider yourself warned.
[flv:http://bitcast-a.bitgravity.com/slashfilm/trailers/boatthatrockedclip.flv 470 264]
There's a great deal of video interview material on the disc too (interested in seeing that uploaded?) and also a nice editing progress demonstration, which gives us different versions of a clip as it develops to the final, locked sequence.
All of the stars I mentioned in the headline make some kind of appearance in the clipped scene – as do Jack Davenport, Rhys Darby, Chris O'Dowd and Katherine Parkinson, and that's still not all. It's an incredible ensemble who, for UK audiences at least, should be mighty powerful lure.
I'm a big fan of Curtis' work, from Not the Nine O'Clock News through to Four Weddings and on to Love Actually. Next Friday, March 13, marks the latest surfacing of the bi-annual Red Nose Day. This is the occasion on which Curtis' charity, Comic Relief, hijacks the BBC for an evening of fundraising and funny business.
This year's lineup will apparently include David Tennant and Davina McCall as hosts, special mini-episodes of TV Burp, The Royle Family and Outnumbered; a Mamma Mia spoof with French, Saunders, Sienna Miller, Joanna Lumley and Matt Lucas; Catherine Tate invading Little Britain; the return of Top of the Pops; Ricky Gervais' reimagining of The Office as an Opera; David Beckham intruding upon Gavin & Stacey; a bunch of (no-hope?) celebs trying their hand at The Apprentice for real; a pair of odd Mitchell & Webb vs. Armstrong & Miller crossovers; and a star-studded lineup recreating the climax to The Full Monty.
Comic Relief support projects not only in the UK, but also around the world. You can read a full breakdown of the work they do on their website, where it has been handily broken down in a very clear fashion. Maybe that will convince you to donate if the roster of funny folk above hadn't.
I have always made a point of donating to Comic Relief and this is, I have to admit, at least in part of my admiration for Curtis. In turn, however, my admiration for the man is increased by his leadership of this charity.