FAILbait: Dakota Fanning Joins Kristen Stewart In The Runaways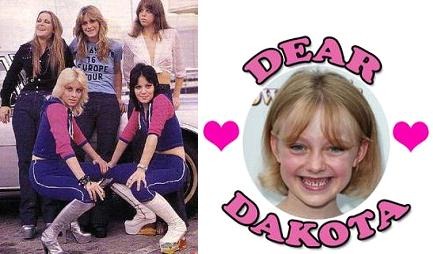 Remember the movie Hounddog? In the words of Tae Kwon Do instructor Fred Simmons: "I can't even believe that's something that's real." Well, America's favorite lil' overachiever, Dakota Fanning, has finally outgrown any chance of a not-rumored JonBenét Ramsey biopic and will now co-star in one about proto-gal-rockers The Runaways instead. Fanning will play Cherie Currie, the white blond lead singer who joined the influential '70s group at the tender age of 15, and faced the pressures of fame and the sociopathic ways of band mastermind Kim Fowley. Back in December we reported that Kristen Stewart, the lead in the Twilight franchise, will star as Runaways guitarist and breakout solo star Joan Jett. Her biggest qualification besides box office draw? Owning a $60 Clash t-shirt.
Floria Sigismondi, best known for Marilyn Manson's "The Beautiful People" video, will direct from her own script and the film begins shooting in the much-anticipated spring. Two classic punk films that I hope Sigismondi has considered for the tone and look of The Runaways would be 1980's Foxes, which co-starred CuRrie alongside an insanely talented young Jodie Foster and Laura Dern—recently screened at the New Bev in L.A.; and 1981's Ladies and Gentlemen, The Fabulous Stains which captured a similarly fizzy riot-girl heatwave and starred youths like Diane Lane (wowzer), teen Brit idol Ray Winstone, and Dern again.