Megan Fox Cast In Jonah Hex And Fathom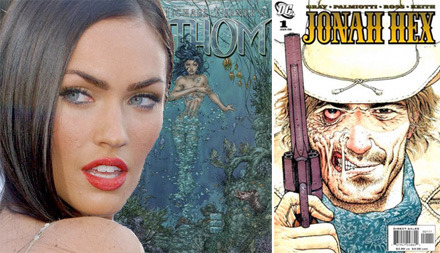 Megan Fox has been cast in Warner Bros' adaptation of Jonah Hex and Fox Atomic's adaptation of Fathom.
Directed by former Pixar animator Jimmy Hayward, Jonah Hex tells the story of a former alcoholic and confederate soldier (played by Josh Brolin) turned supernatural loner and gunslinger. The comic book was introduced in the 1970's, created by writer John Albano and artist Tony DeZuniga, the character received his signature scar at the hands of Indians who placed a hot tomahawk to his face. His mother was a prostitute and his dad sold him into slavery. Fox will play Leila, Jonah's beautiful gun-wielding love interest. John Malkovich plays the film's villain, a voodoo practitioner who wants to raise an army of undead to liberate the South. The film is scheduled to begin production in April, with an announced release date of August 6th 2010.
And in Fathom, Fox plays a young woman named Aspen who was discovered at sea by a cruise ship, and later learns she is a member of a race of aquatic humanoids who possess the ability to control water. James Cameron was at one point developing a feature film based on the Top Cow comic (which totally makes sense considering the director's obsession with the ocean), but now the project is being adapted by Jordan Mechner, the creator of the video game Prince of Persia (who also wrote an initial draft of the Jerry Bruckheimer produced film adaptation Sands of Time).
source: THR