Warner Bros Cops Out On Kevin Smith's Dick Movie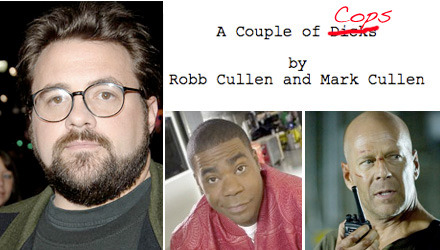 Wow...
Yesterday word broke that Kevin Smith would be helming the first feature film based on a screenplay he did not write. Robb and Marc Cullen's A Couple of Dicks was one of the scripts on the 2008 Black List (a Hollywood insider list of the best unproduced screenplays of the year). The story follows "two veteran LAPD detectives attempt to track down a stolen, mint-condition, 1952 baseball card." It will star Bruce Willis and Tracy Morgan and will be Smith's first studio film. The trades have confirmed the rumors, but the real shocker is that Warner Bros has decided to change the title from A Couple of Dicks to...  A Couple of Cops.
REALLY? C'mon.
It's not that I thought the original title, an obvious double entendre, was insanely clever, but it was definitely 100 times better than the new title, which is devoid of all cleverness. I understand that the word Porno posed a problem with the marketing of Smith's Zack and Miri Make a Porno, but I think this is a totally different situation. Hell, Universal's Meet The Fockers was released without issue. Also, Andrew Fleming's 1999 Whitewater/Richard Nixon comedy Dick was released with no problems. So whats the deal?