500 Days Of Summer Movie Trailer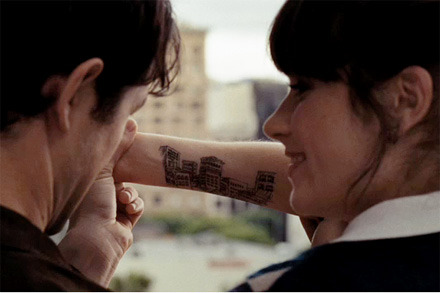 Fox Searchlight has finally released a full length movie trailer for Marc Webb's indie post-modern romantic comedy (500) Days of Summer. The Sundance Film Festival sensation tells the story of a love story, in a way you've never seen it before. When a greeting card copywriter named Tom (Joseph Gordon-Levitt) is dumped by the love of his life, a magical girl named Summer (Zooey Deschanel), he takes a look back at their 500 days "together" to try to figure out where things went wrong. I gushed all over this movie at Sundance (read my review here).
The trailer begins much like the movie begins, with fairy tale like narration. You'll get brief glimpse at some of the more non-traditional visual storytelling techniques that Webb employs (dream sequences, split screens, and even a dance number) and also gives you a brief listen to the film's incredibly hip soundtrack (track listing here). The trailer comes off as a little cliche (which is strange since the film is the opposite of generic) and I still don't think it plays up the aspect of the film that makes it so unique – the fact that the movie jumps between the past and the future to help explain how the couple fell in love and what, if anything, went wrong. Watch the trailer after the jump and leave your thoughts in the comments below.
[flv:http://bitcast-a.bitgravity.com/slashfilm/trailers/500daysofsummertrailer.flv 470 196]
Official plot synopsis: Boy meets girl. Boy falls in love. Girl doesn't. This post modern love story is never what we expect it to be — it's thorny yet exhilarating, funny and sad, a twisted journey of highs and lows that doesn't quite go where we think it will. When Tom, a hapless greeting card copywriter and hopeless romantic, is blindsided after his girlfriend Summer dumps him, he shifts back and forth through various periods of their 500 days "together" to try to figure out where things went wrong. His reflections ultimately lead him to finally rediscover his true passions in life. 500 DAYS OF SUMMER stars Zooey Deschanel (THE HAPPENING, FAILURE TO LAUNCH) and Joseph Gordon-Levitt (STOP-LOSS, THE LOOKOUT,) directed by Marc Webb, screenplay by Scott Neustadter and Michael Weber.
Watch the trailer in high definition on Yahoo. (500) Days of Summer will hit limited theaters on July 17th 2009.