This Week In DVD: Australia, Watchmen: The Motion Comic, And More
We may receive a commission on purchases made from links.
This Week in DVD is a column that compiles all the latest info regarding new DVD releases, sales, and exclusive deals from stores including Target, Best Buy and Fry's.Please don't take the commentary on the movies and TV shows too seriously, as they're meant not to be reviews but rather previews that include the general thoughts and ramblings of a twice-committed DVD addict. The categories represent solely the author's intentions towards the DVDs at hand, and are in no way meant to be a reflection on what he thinks other people should rent or buy. So if he ends up putting a movie you like in the "Skip it" section without having seen it, please keep in mind that the time you could spend leaving a spiteful but ultimately futile comment could instead be used for more pleasant things in life. Like buying DVDs.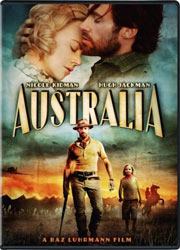 AUSTRALIA
Not the complete misfire that some people made it out to be, Australia is a thoroughly entertaining and visually lush movie-watching experience. That's not to say it isn't flawed though, with its biggest setback being its desire to do far too much. Apparently Baz Luhrmann wasn't content with simply making the movie a fun adventure flick, so he decided to tag on a "sweeping epic" Oscar-bait sequel as well. It's literally two movies in one, and that's not an exaggeration. At the halfway point, essentially every major plot point finds some means of resolution, only to have a whole slew of new conflicts introduced (many of which strive for a level of seriousness that hasn't really been earned). Even so, both films have their merits, and despite the clumsiness of the overall narrative, I can't say I didn't enjoy myself.
Blu-ray? Yes.Notable Extras: Two deleted scenes.
BEST PRICE
Target
Best Buy
Fry's
$16.99
$17.99
$16.99
Amazon – $16.99
EXCLUSIVE DEAL:What? $5 Gift Card.Where? Fry's.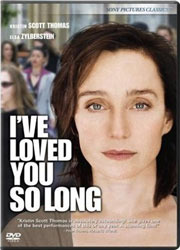 I'VE LOVED YOU SO LONG
I haven't heard much about I've Loved You So Long, a French family drama following the lives of two sisters, but it's been receiving some significant praise from critics and, well, there's not much else being released this week. I recommend checking out the trailer; chances are, you'll know pretty quickly if this is the type of movie you're interested in.
Blu-ray? Yes.Notable Extras: Deleted scenes.
BEST PRICE
Target
Best Buy
Fry's
N/A
$19.99
Amazon – $19.99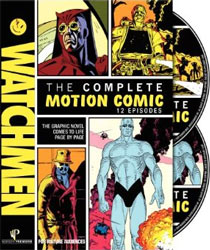 WATCHMEN: THE COMPLETE MOTION COMIC
Watchmen has been hailed as the greatest graphic novel ever written, a sentiment I wholeheartedly agree with. So here's an idea: read the graphic novel. What's the point of watching a barely animated version of it? To me, this seems just as unnecessary as audio books (which aren't at all dissimilar, seeing as how there's only one guy doing all the voices here–and that's including the female characters). If you're really that interested in seeing the story come to life, just watch the movie when it hits theaters this Friday.
Blu-ray? Yes.Notable Extras: $7.50 movie cash to see Watchmen in theaters.
BEST PRICE
Target
Best Buy
Fry's
$19.99
$17.99
Amazon – $19.99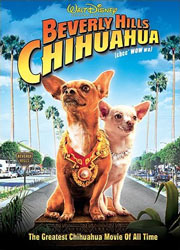 BEVERLY HILLS CHIHUAHUA
According to the film's reviews, Beverly Hills Chihuahua is merely bad, and not the soul-sucking abomination of cinema that its dreadful trailer made it appear to be. Personally, I could care less. The movie's about talking Chihuahuas from Beverly Hills. And unless that concept is being used as a clever way to satirize wealthy Hollywood snobs (which I doubt), I can see no reason to subject myself to the torture of attempting to offer it a legitimate critique.
Blu-ray? Yes.Notable Extras: Audio commentary by director Raja Gosnell, "Legend of the Chihuahua" animated short, "Pet Pals: The Voices Behind the Dogs", "Hitting Their Bark: On the Set with the Dogs of BHC", deleted scenes and bloopers.
BEST PRICE
Target
Best Buy
Fry's
$15.99
$16.99
Amazon – $15.99
EXCLUSIVE DEAL:What? Free $5 Target GiftCard with purchase of both Beverly Hills Chihuahua and Air Bud (Special Edition) ($16.99).Where? Target.EXCLUSIVE DEAL:What? Save $6 with purchase of both Beverly Hills Chihuahua and Air Bud (Special Edition) ($19.99).Where? Best Buy.Other noteworthy DVDs available this week...Wonder Woman – Wonder Woman (2-Disc Special Edition) – Ace Ventura Jr.: Pet Detective – In the Electric Mist – Ashes of Time Redux – Lake City

NOTE: Some deals may be in-store only.

Exclusive: Free "Origins Comic" with Wonder Woman ($12.99 for standard, $19.99 for Deluxe Edition).$17.99 – Seinfeld (Seasons 1 – 9)$16.99 – It's Always Sunny in Philadelphia (Seasons 1&2)$4.75 – Traffic, The Talented Mr. Ripley, Sleepless in Seattle, Charlie's Angels: Full Throttle, and more...

Exclusive: Free "Wonder Woman Action Figure" with Wonder Woman (2-Disc Edition) ($22.99) or Blu-ray ($29.99).