Already Musical Backbeat To Become A Musical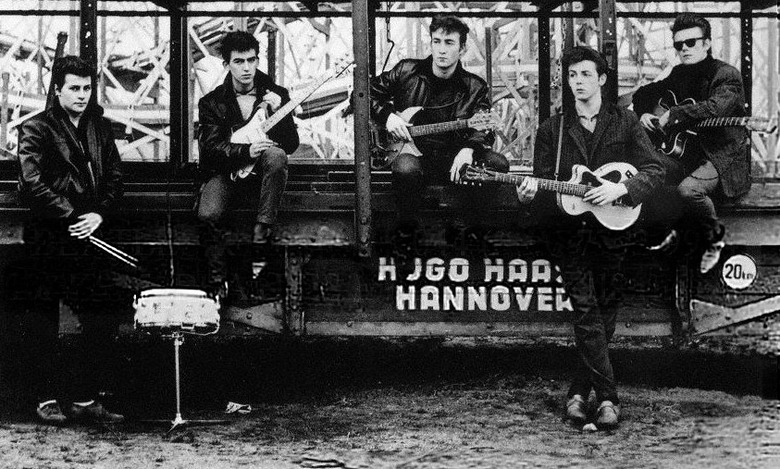 Iain Softley's debut feature was Backbeat, a biopic recounting of Suart Sutcliffe's time in The Beatles, his romance with Astrid Kircherr and very close friendship with John Lennon. The film's secret weapon was Ian Hart's performance as Lennon – the second of three times he took the role, after The Hours and the Times and before Forrest Gump – but as well as that superscud, it was a pretty well armed attack beast overall. it looked good, sounded great, Stephen Dorff was never better and Gary Bakewell made for a better Paul McCartney than, well, Phil Ackrill.
According to a little Tweet from David Poland, Softley is today casting Backbeat: The Musical. He wasn't sure if anybody knew about the project, but I can't find any big scale discussion anywhere. So far, I don't know for sure if this will be a musical film or a musical stage show, but I'm banking on it a film – Softley being a film director, after all – and if Poland replies to my query, or I find the answer elsewhere, I'll update this post.
When the movie Beatles perform in the original, the actual soundtrack is provided by a supergroup of early 90s rockers – Dave Grohl, Dave Pirner, Thurston Moore and Mike Mills included – who give the songs a suitably "leather whip" feel. Just like I'll never know what it would have been like to attend a Lumiere Bros. screening, or go unspoiled into Psycho during its first run, I can't even really guess what it would have been like to witness the Beatles ripping pop music a new one in the early 60s. Softley did a very good job of capturing an exploding fist of sheer protopunk guts and glory in the first film, but I think he might have to update his approach a little in the next version to get just the same effect.
The image at the head of the post is a photo of the real Beatles that was replicated for the film. From left to right, I believe, we have Pete Best, George Harrison, John Lennon, Paul McCartney and Stuart Sutcliffe. You might want to tell me why I'm wrong in the comments, but I don't think there's any real argument against The Beatles being the greatest band in the entire history of pop music.
For the record, Paul McCartney is reputed to not much like Backbeat. The story goes that Macca feels his movie doppelganger has been neutered and that all of the rraawwkk was injected into the movie John Lennon instead. No matter what, I'd say McCartney himself has done a better job of wimping up his image than any film ever did.
Softely's other films include a marvelous adaptation of Wings of the Dove and the very recent Inkheart which I adored. One of England's most undervalued directors – even his less successful films are pretty well put together indeed.
By the way, if you don't know who the aforementioned Phil Ackrill is – or more to the point, isn't – Google his name and brace yourself...
Update: David Poland has told me that this will be a stage musical – which, as we all know, simply means a delay before the big screen musical version. Isn't that the way it works now? Film – stage musical – film musical, the new Hollywood life cycle.