Watch Nina Paley's Ebert-Wowing Animated Masterwork Sita Sings The Blues Online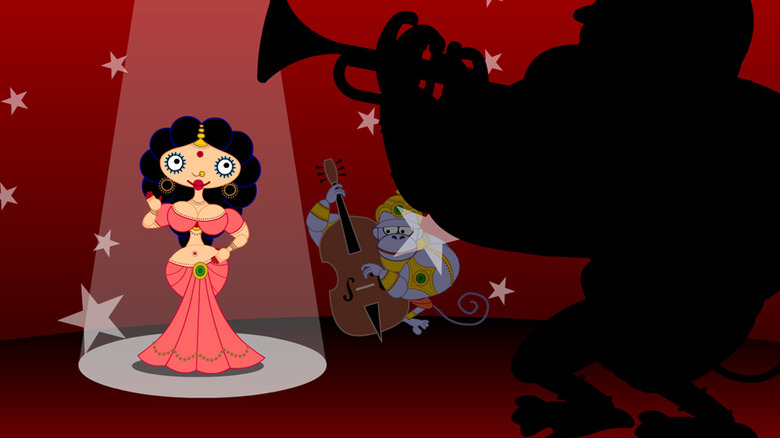 After some scary months in which it seemed nobody much would ever get a chance to legally see Nina Paley's wonderful, wonderful Sita Sings the Blues, the film is now available for free streaming on the Reel 13 website – and if you don't fancy a lower-res streaming version, completely legal HD and film resolution torrents are on the way, WNET 13 in New York (the owners of the above site) will be showing the film on TV on March 7th.
The film mixes animated biography, comedic riffs on The Ramayana, a chorus of shadow puppets and some wonderful musical moments. Paley's tag line reads "The Greatest Break-Up Story Ever Told". I have to add that it features most of the truly innovative twists on the typical Flash animation aesthetic that I've ever seen.
The reason the film is getting a completely atypical release is sad and fascinating but also a little bit complex – my abridged version after the break.
For the crucial musical sequences, Paley used public domain recordings by 1920s singer Annette Hanshaw. Unfortunately the lyrics and musical notation were still protected by copyright and her use of them in the film would be deemed illegal unless any requested licensing fee was paid, so Paley looked into what sum would be required.
She was originally quoted a price of over 200,000 dollars to license the music; this has come down to 50,000; but she still didn't have anything like the money in the budget.
So what was her clever plan? To copyleft the film. Yep – copyleft, not copyright. Essentially, this means Paley can make the film available for free and try to generate income through other means – donations, offering tax write-offs, auctions, charity screenings, and so on. As a side-effect, she has also copylefted all of her existing cartoons that tie-in to the film. If you've enjoyed the film, please consider some kind of support – perhaps making a donation but definitely at least telling other people where to see it and how.
Question Copyright are on Paley's side, and have posted a 40-some minute video interview in which the animator explains how she got herself into this situation in the first place much better than I managed to.
Paley has given more details of the Copylefting scheme on her blog, while Roger Ebert has also nicely outlined the pickle she's in. He's one of the film's high-profile fans, of which there are many. I'm a low profile fan, I guess. Join me, rooting away in the grass bed.
While I definitely understand copyright, and support the protection it grants artists I also support Paley's way of subverting the system for art, not for commerce.
/Film doesn't get the chance to direct you to a full film online very often, especially not a film that's so very, very good.