TED2009: How Benjamin Button Got His Face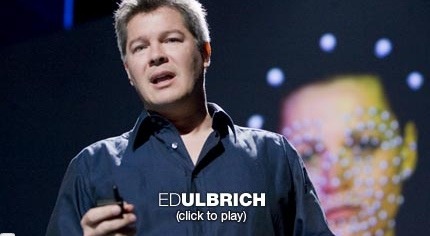 As a kid I was obsessed with those movie magic specials. It was kind of like finding out how a magician did his magic tricks. As digital special effects have taken over, I feel the movie magic reveal has become less fun. Watching the special effects featurette on a DVD is usually one of the least interesting things on the disc. So it's great when a video like this comes along.
Digital Domain's Executive Vice President Ed Ulbrich gave a talk at TED2009, explaining "How Benjamin Button Got His Face." TED stands for Technology, Entertainment, Design. It started out (in 1984) as a conference bringing together people from those three worlds. Since then its scope has become ever broader. The annual conference now brings together the world's most fascinating thinkers and doers, who are challenged to give the talk of their lives (in 18 minutes). Ulbrich explains the Oscar-winning technology that allowed his team to digitally create older versions of Brad Pitt's face for David Fincher's The Curious Case of Benjamin Button. This talk was recorded in February 2009 in Long Beach, California. Watch the video after the jump.