(And Of Course) The NeverEnding Story Gets A Remake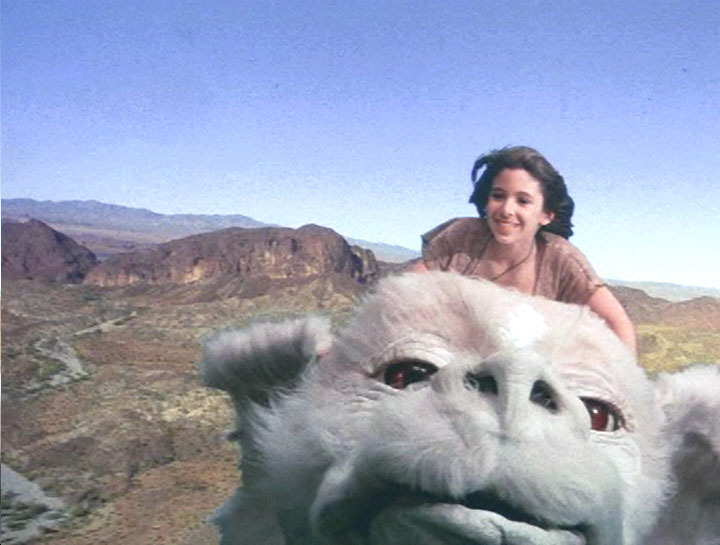 We may have solved what "The Nothing" is once and for all:  why, it's the insatiable trend of Hollywood remakes. The sparkly 1984 children's fantasy film, The NeverEnding Story, has been dusted off at Warner Bros. though screenwriters and a director are not currently attached. Leonardo DiCaprio's Appian Way has taken interest in the material. The original film was adapted by director Wolfgang Petersen from the German fantasy novel, Die unendliche Geschichte, and is best remembered for a weird, snow white dog-dragon named Falkor that is ridden upon by a warrior boy (as seen above) through many a bong cloud.
According to the trades, the remake will will "examine the more nuanced details of the book that were glossed over in the first pic." Which, I guess translates into attempting to actually fulfilling the franchise's title this time around. A theatrical sequel to the original film was directed by George Trumbull Miller (Cybermutt) and released in 1990—you may recall all the jokes that resulted—but didn't fare so well at the box office. 1994 saw yet another sequel but it wasn't released stateside until two years after it originally hit Germany.
Some of the dudes at Film School Rejects seem to be getting huffy about the announcement on Twitter—there's talk about kicking kittens—but I'm not picking this battle, especially considering that we all got nailed with a twofer tonight. (See the next post.) However, if you are so inclined to drive off a cliff, why not purchase the Neverending Story party van that we featured last week? I haven't been mildy obsessed with these movies since I was extremely obsessed with Labyrinth-era David Bowie and M.C. Escher's artworks i.e. a long time ago. However, there were epic stakes, epic scale and an anything goes play on imagination and special effects that we don't see much from children's films anymore. And that giant rock dude who rocked.
Discuss: Where does it end?