Zack Snyder Talks About Adapting The Dark Knight Returns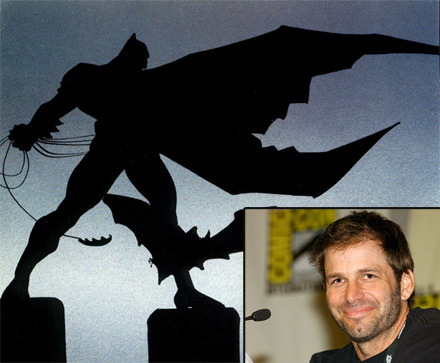 We may receive a commission on purchases made from links.
At San Diego Comic-Con last year, Zack Snyder said that he "would love to see Frank Miller's The Dark Knight Returns made into a movie." Later at the Entertainment Weekly Visionaries panel, Miller told Snyder "You can do it anytime you want to Zack". To which Snyder said he was making a note of Miller's response.
Earlier this week in our video blog discussion about the future of Batman movies, I suggested that after doing a third Batman film Warner Bros not proceed with another sequel. It is expected that Batman 3 might be the last Batman movie for series helmer Christopher Nolan, and I would love them to instead jump into the future and do an adaptation of The Dark Knight returns or jump into the even further future and do a Batman Beyond movie. That way they could potentially return to the Batman series if Nolan wanted to return after a few years of rest.
Lets be realistic, a Zack Snyder adaptation of Frank Miller's The Dark Knight Returns will probably never happen, but it's fun to imagine what could be. FirstShowing got the chance to ask Snyder what he would do with the material if he ever got the chance to bring it to the big screen.
I think the thing that's awesome about Dark Knight, like Watchmen, is that it is a complete and total experience, that was unlike anything anyone has ever seen, and still is," Snyder said. "I think the big challenge for me would be — it's so 'montage-y' and so media thick, that you just have to — that's the techniques you'd have to develop and make work. But as far as the rest goes, the thing I'd be really interested in is that kind of Frank [Miller] narration over that cool action, that's a thing we haven't really seen in that context.
Miller's four-issue comic book miniseries, Batman: The Dark Knight Returns, was first published in 1986. It has since become one of the most popular graphic novel/trade paperbacks of all time. It reintroduced Batman to the general public as the psychologically dark character of his original 1930s conception, and helped to usher in an era of "grim and gritty" superheroes from the mid-1980s to mid-1990s.
Set 20 years in the future, criminals run amok and a gang called the Mutants terrorize Gotham City as superheros are a thing of the past. Bruce Wayne has been retired from crime fighting for ten years following the death of Jason Todd, the second Robin. Despite Wayne's funding the rehabilitation of Harvey Dent (Two-Face), Dent returns to crime. Wayne dons the Batman costume again and apprehends Dent, but the populace debates whether Batman is a savior.
You can buy The Dark Knight Returns on Amazon for around $10.