Danny Boyle Offers To Buy Slumdog Child Actors New Homes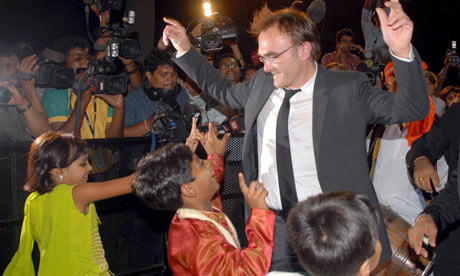 After the stunning Oscar night success of Slumdog Millionaire, I didn't think it would be possible to be an even bigger fan of Danny Boyle (especially after his heartfelt speech and infectious child-like excitement throughout the night's proceedings)  but yet again, the man has pleasantly surprised me. According to The Daily Mail, Boyle and producer Christian Colson have agreed to buy new apartments, worth £20,000 each, for Slumdog child actors Azharuddin Mohammed Ismail (young Salim) and Rubina Ali (young Letika).
This move follows accusations that Boyle and the film's producers had exploited the children in making the film, claims that were fueled when photos of the children still living in squalor surfaced on the web. Of the new homes that Boyle will be placing the children and their families in, Boyle told The Daily Mail:
These are bricks and mortar flats. They will have electricity, running water and good sanitation. They will still be close to their friends and extended family. Their community is very important to them, and they don't want to move too far away from them.
To ensure that the homes are not immediately sold, Colson and Boyle have placed the home in a trust, and will release property ownership when the kids turn 18. For the next eight years, the film company has also agreed to paid for a rickshaw driver to take the kids to and from school.
In addition to Boyle/Colson's offer, the Maharashtra Housing and Area Development Authority in Mumbai have also said they want to give each of the children a new home. According to the organization's chairman,
These children have made the country proud and have an equal hand in the film winning the Oscar. These children are special and have won laurels for the country and we want to felicitate them.
All in all, this presents a dramatic case of how Oscar gold can dramatically change the course of someone's life.