Box Office: Madea Goes To Jail Grabs $14M Opening Day For A Possible $39.2M Weekend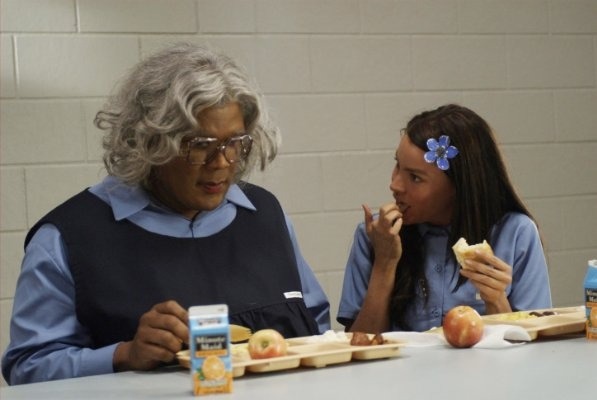 Tyler Perry is the king of the Hollywood box office for Academy Awards weekend. Tyler Perry's Madea Goes To Jail (Lionsgate) debuted with just 2,032 playdates on Friday and scored a monstrous $14M for a Per Theatre Average of almost $7,000. The final weekend take could be $39.2M.
Although I am not necessarily a fan of Tyler Perry movies, I am a Tyler Perry fan. He traveled the country for years doing live stage shows in order to fine-tune his act, and he identified an under-served audience – African Americans, and more specifically black, Christian women. Now he makes two movies a year, and he has two television series' on TBS – House of Payne and Meet the Browns. He built a multi-million dollar studio in an under-served area in Atlanta, taking advantage of tax credits for building in a blighted neighborhood. Now he is building a mini-empire. He produces, writes, directs and stars in his projects, and he even helps to finance them.
Perry has proved that it is possible to reach out to an audience that Hollywood has generally ignored. He saw a demographic market, and now he knows how to hit that "sweet spot" over and over again. He is an unabashed capitalist and, although he may never win an Academy Award for this brand of movie, he is selling a lot of movie tickets. Madea Goes To Jail was not screened for critics, and it wouldn't matter anyway. Here's TP's movie resume.
ALL-TIME TYLER PERRY OPENINGS
1. Tyler Perry's Madea Goes To Jail – $39.2M opening (projected)
2. Tyler Perry's Madea's Family Reunion – $30M opening – $63.25M cume
3. Diary of a Mad Black Woman – $21.9M opening – $50.6M cume
4. Tyler Perry's Why Did I Get Married – $21.3M opening – $55.2M cume
5. Tyler Perry's Meet the Browns – $20.1M opening – $42M cume
6. Tyler Perry's The Family That Preys – $17.3M opening – $37.1M cume
7. Tyler Perry's Daddy's Little Girls – $11.2M opening – $31.3M cume
As I was discussing the numbers with studio execs today, everyone was amazed. This is about Perry's unique voice, but there's something else happening. The first two months of 2009 have been filled with movies that have beaten industry expectations. Paul Blart: Mall Cop (Sony) with $31.8M in its first 3 days and almost $116M by Monday? Notorious (Fox Searchlight) comes out of nowhere to grab $23.4M over MLK weekend? A micro-budgeted French import like Taken (Fox) will pass $100M in the US? Clint Eastwood delivers his biggest wide opening weekend and top-grossing picture of his career with Gran Torino (Warner Bros)? The reboot of Friday The Thirteenth (Warner Bros) scares up an amazing $43.5M 4-day start? The movie business is incredibly healthy despite an uncertain economy. I continue to believe that Hollywood is recession-proof.
Even the bad movies are doing better-than-expected. For example, Sony's low budget teen comedy Fired Up is a throw-away this weekend, and most of my regular sources had it opening in the $4M-$5M range. Instead, it grabbed a decent $2.5M on its opening day and has a shot at $7M. It will likely finish seventh for the 3-day, but that's so much better than it could have been.
The $60M Coraline (Focus), the spectacular 3-D film from Henry Selick, will most likely wrap up the weekend at #2 with about $11.2M, down just 24%, after a $2.8M Friday (fifth for the day). This movie will have banked $53.5M by Monday, and, if you haven't seen it yet, do yourself a favor and experience just how far 3-D has evolved from those cardboard glasses with the red and blue lenses.
Luc Besson's Taken was second for the day at $3.25M, but will finish #3 for the weekend with about $10.7M. That will give this Pierre Morel-directed action flick a head-turning $94.5M, and it should pass $100M next weekend.
The Flower Films rom-com He's Just Not That Into You (Warner Bros) seems likely to nose out the fast-fading Friday The Thirteenth for fourth-place. Based on the Greg Behrendt-Liz Tuccillo self-help book, the Ken Kwapis-directed chick-flick managed another $3M on Friday (#4 for the day), which could translate to $9.5M for the 3-day.
Meanwhile, movie-goers showed up at Crystal Lake last weekend, but America's teens have quickly lost interest. Friday The Thirteenth from director Marcus Nispel and Michael Bay's Platinum Dunes fell to only about $3.2M in second Friday sales (the movie stunned with over $19M last Friday), and Jason will limp to a possible $9.2M. That would mean a 77% drop, which would be one of the fifteen biggest weekend-over-weekend tumbles in modern box office history.
EXCLUSIVE STEVE MASON EARLY FRIDAY ESTIMATES
1. NEW – Tyler Perry's Madea Goes To Jail (Lionsgate) – $14M, $6,890 PTA, $14M cume
2. Taken (Fox) – $3.25M, $1,050 PTA, $87M cume
3. Friday the Thirteenth (Warner Bros) – $3.2M, $1,031 PTA, $50.37M cume
4. He's Not That Into You (Warner Bros) – $3M, $984 PTA, $64.54M cume
5. Coraline (Focus) – $2.8M, $1,299 PTA, $45.13M cume
6. Confessions of a Shopaholic (Disney) – $2.62M, $1,047 PTA, $23.26M cume
7. NEW – Fired Up (Sony) – $2.5M, $1,381 PTA, $2.5M cume
8. Paul Blart: Mall Cop (Sony) – $1.54M, $545 PTA, $115.92M cume
9. The International (Sony) – $1.42M, $604 PTA, $14M cume
10. Slumdog Millionaire (Fox Searchlight) – $1.2M, $535 PTA, $91.16M cume
11. Pink Panther 2 (Sony) – $1.13M, $425 PTA, $26.8M cume
12. Push (Summit) – $952,000, $506 PTA, $22.5M cume
EXCLUSIVE STEVE MASON EARLY FRIDAY ESTIMATES
1. NEW – Tyler Perry's Madea Goes To Jail (Lionsgate) – $39.2M, 2. $19,291 PTA, $39.2M cume
2. Coraline (Focus) – $11.2M, $5,197 PTA, $53.53M cume
3. Taken (Fox) – $10.7M, $3,449 PTA, $94.45M cume
4. He's Not That Into You (Warner Bros) – $9.5M, $3,115 PTA, $71M cume
5. Friday the Thirteenth (Warner Bros) – $9.2M, $2,963 PTA, $56.37M cume
6. Confessions of a Shopaholic (Disney) – $8.5M, $3,391 PTA, $29.13M cume
7. NEW – Fired Up (Sony) – $6.8M, $3,757 PTA, $6.8M cume
8. Paul Blart: Mall Cop (Sony) – $5.4M, $1,908 PTA, $119.78M cume
9. The International (Sony) – $4.56M, $1,932 PTA, $17.13M cume
10. Slumdog Millionaire (Fox Searchlight) – $4.5M, $2,005 PTA, $94.46M cume
11. Pink Panther 2 (Sony) – $3.72M, $1,403 PTA, $29.4M cume
12. Gran Torino (Warner Bros) – $3.09M, $1,522 PTA, $133.88M cume