Judd Apatow's Funny People Movie Trailer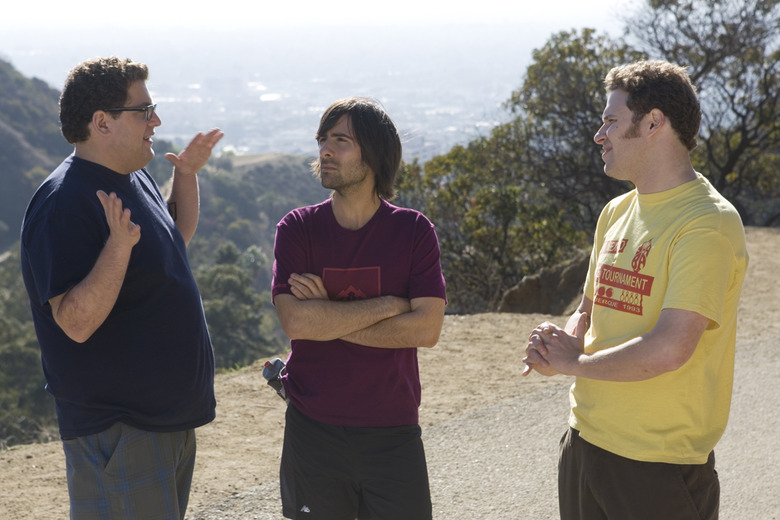 Universal has released the first trailer for Judd Apatow's upcoming dramedy Funny People on Moviefone. The movie stars Adam Sandler as a famous comedian who has a near-death experience and hires/befriends and an unknown comedian/joke-writer played by Seth Rogen. You can read our previous review of the script here. The trailer gives away a lot more of the story than I thought it would, and looks very glossy for a Apatow flick. Watch the trailer (and check out new photos) after the jump. Leave your thoughts in the comments below.
Official plot synopsis:Over the past few years, writer/director Judd Apatow (The 40-Year-Old Virgin, Knocked Up) has shown that nothing—not even losing your virginity or the miracle of childbirth—is sacred. About his third film behind the camera, he says, "I'm trying to make a very serious movie that is twice as funny as my other movies. Wish me luck!" Apatow directs Adam Sandler, Seth Rogen and Leslie Mann in Funny People, the story of a famous comedian who has a near-death experience. Adam Sandler, Eric Bana, Jason Schwartzman, RZA and newcomer Aubrey Plaza join a cast that reunites Judd Apatow with Seth Rogen, Leslie Mann and Jonah Hill in their third comedy together.
Funny People hits theaters on July 31, 2009.